Computational Biology
We bring together scientists with skills in developing and applying computational, mathematical and biophysical techniques to questions in biological and medical research.
Members of the division either have their own "wet-lab" or collaborate closely with "wet-lab" experimentalists or clinicians to extract maximum value from experimental data that informs the development of predictive algorithms and models that may be tested experimentally.   The Division shares a vision of Computational Biology as the focal point for the convergence of computing, mathematics and the physical sciences with experimental biology.
Since 14th July 2014, the Division has occupied a purpose-built floor in the new Centre for Translational and Interdisciplinary Research building which is physically linked to the rest of the School of Life Sciences research complex (MSI, WT and JBC buildings).
Training Resources
We have created resources and opportunities to learn about and gain practical experience using tools and techniques developed in the School of Life Sciences.
Head of Division
Academic staff
News
News
Latest research from the Universities of Dundee and Bristol has determined key details on the formation of large-scale functional structures during early embryonic development.
News
Review of the Year 20212 took place last week with the Dean, Julian Blow sharing the highlights of activity within the School from 2022.
News
New work from the University of Dundee reveals a basic feature of how our genomes are organized, and our genes are processed. This work has been published in the journal eLife.
News
Clues to the mechanism of yeast infections, which present risks to both humans and crops, have been identified.
Press release
Researchers from the Universities of Dundee and Oxford have made a discovery that helps explain why variations in the virus that causes Covid-19 spread so rapidly.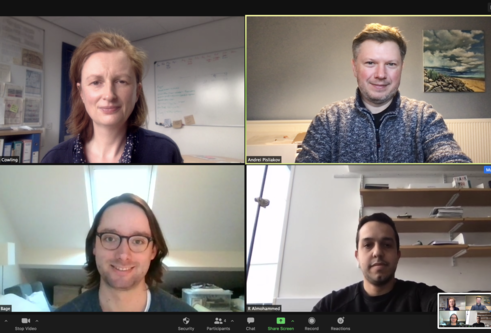 News
Researchers at the University of Dundee have identified novel interaction sites on the mRNA Capping Enzyme that are essential for its activity.
News
Matthew Parker and Giulia Saredi have been awarded SULSA ECR development funding in the first round of the scheme.
Press release
Vacuum cleaners that unblock brain vessels, super normal design for extraordinary bodies, and the ways in which our medical data can aid the COVID-19 fight are just some of the topics to be explored at the University of Dundee next week.
News
The mechanism of a protein which transports ammonium across cell membranes has been discovered in research led at the University of Strathclyde, in collaboration with the University of Dundee and the Université Libre de Bruxelles.
Press release
A University of Dundee researcher has been awarded £1.6 million in funding from UK Research and Innovation (UKRI) to develop machine learning tools for the life sciences.