Professor Jason Swedlow
OBE FRSE
Contact
Email
Phone
+44 (0)1382 385819
Locations
Websites
Research
During cell division, the two copies of a cell's genetic material are completely separated and delivered to a pair of new daughter cells. Proper chromosome segregation requires the formation of correct attachments between the genetic material, assembled into chromosomes, and ends of microtubules. Our research is focussed on establishing the molecular mechanisms that mediate and monitor the correct attachment of chromosomes to microtubule at a special structure known as the kinetochore. To achieve this, we make use of advanced tools for imaging the components of cell division, especially in living cells and specialised mass spectrometry methods to probe the molecular machinery of cell division. Recently, we used these tools to discover a new protein, Bod1, that plays a critical role in the formation of correct attachments between microtubules and chromosomes by modulating the activity of Aurora B protein kinase. We recently installed a newly developed OMX microscope and are using this system to probe the inner workings of the centromere and kinetochore of the mitotic chromosome.
INCENP (red) localization in a dividing cell, also stained for microtubules (green) and DNA (blue). Click on the thumbnail to view and manipulate the image in OMERO. (See figure 2 below)
Like many cell biology labs, we generate large sets of image data. To manage, analyse and understand this data, we, long with our collaborators, formed the Open Microscopy Environment Consortium. OME develops data specifications, file format translators and data management software for imaging applications. OME tools are used in thousands of labs around the world. For more info on OME, see the Consortium's web site.
View full research profile and publications
Stories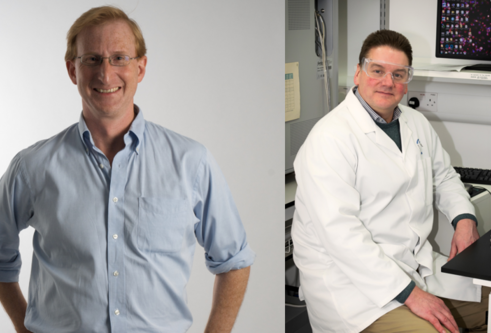 Press release
Researchers at the University of Dundee are among those celebrating being named in HM The Queen's birthday honours
Press release
A University of Dundee scientist has accepted a role to lead a $55 million initiative aiming to create a "tissue time machine" to fight disease
News
The 'Dundee Virtual Microscope' a collaboration between Dr Paul Felts from the School of Science & Engineering and the OME group led by Professor Jason Swedlow in the School is a prime example.
Research interests
Mitotic chromosome dynamics
Awards
Award
Year

Order of the British Empire (OBE)

/

Honorary Order of the British Empire (OBE)

2021

Fellows of the Royal Society of Edinburgh

2012

National Sciences Prizes awarded since 1990

/

BBSRC Innovator of the Year & Social Innovator of the Year

2011

Personal Fellowships

/

Wellcome Trust Senior Research Fellowship

2007

International Science Prizes awarded since 1990

/

Nikon Fellowship at the Biological Laboratory at Woods Hole, USA

2005