Contact
Email
Phone
+44 (0)1382 385699
Websites
Biography
Dr Rastko Sknepnek obtained his PhD in physics under supervision of Prof Thomas Vojta at the University of Missouri – Rolla, USA in 2004.
From 2004 to 2006 he was a Postdoctoral Fellow at the McMaster University (Canada) in the group of Prof A. John Berlinsky and Catherine Kallin. In 2006 he moved to the Iowa State University/DOE Ames Laboratory (USA) to do another Postdoc with Prof Joerg Schmalian and Prof Monica Lamm.
In 2009 he joined group of Prof Monica Olvera de la Cruz at Northwestern University (USA) as a Research Associate. In 2012 Dr Sknepnek was awarded inaugural Distinguished University Postdoctoral Fellowship in the Soft Matter Program at Syracuse University (USA). In September 2013 he joined University of Dundee as Lecturer in Physics and Dundee Fellow.
Research
Research interests
Pattern formation in complex geometries
Physics of biological and artificial membranes
Physics of active systems
Guided assembly of nanocomposite materials
Scientific code development
View full research profile and publications
Second supervisor
Stories
News
Latest research from the Universities of Dundee and Bristol has determined key details on the formation of large-scale functional structures during early embryonic development.
Press release
Researchers at the University of Dundee have been awarded £2.1 million from UK Research and Innovation (UKRI) to determine how thousands of cells self-organise to form the embryonic body plan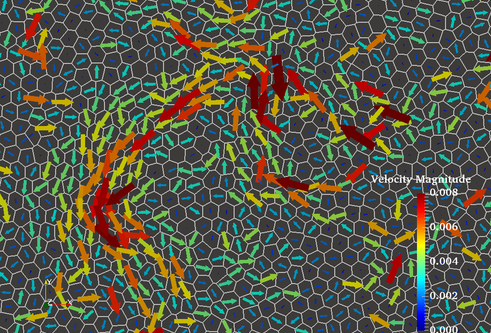 News
new theory on collective cell migration has been published in Nature Communications this week.