Dundee Law School
Learn in an inclusive and friendly environment, where you can develop your legal skills and prepare for your future career in law
In the top 15 for Law in the UK
The Sunday Times Good University Guide 2023 and Guardian University Guide 2023
Our academics, many of whom are leaders in their fields, will challenge and support you throughout your studies.
You will learn and develop both legal and transferable skills such as the ability to understand and analyse complex materials, and present persuasive arguments orally and in writing. This will set you on the path to future career success.
Stories
News
Students and graduates will have the opportunity to put prospective employers in the dock as the University of Dundee hosts its annual Legal Recruitment Fair.
News
Tosho Suleiman, Senior Legal Advisor at the Nigeria Sovereign Investment Authority (NSIA), achieved a distinction in his International Commercial Law (LLM) degree. He recently explained the impact the university had on his career.
Press release
A high-achieving Law graduand and one of the UK's top postgraduates have shared the most prestigious award given to University of Dundee students.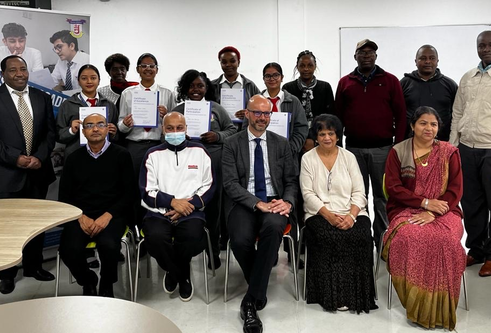 Press release
Pupils from schools in Ghana, Kenya, Nigeria, Uganda and Zimbabwe participated in the University of Dundee's African Schools Mooting Competition 2022
Press release
The debating skills of Africa's future legal experts have been recognised as outstanding in a mooting competition hosted by a leading UK university
News
Dundee law students get valuable insights from partner with leading global law firm
News
Selasie Atuwo, from Ghana, graduated from the University of Dundee in 2011 with an LLM International Commercial Law
News
Kevin Wahba studied law at the University of Dundee and now works as a Geomatics Engineer, Lawyer and an Ontario Land Surveyor
News
Chidinma Zik-Ikeorha, an international student from Nigeria, graduated with an LLM in International Law and currently works as a Programme Consultant for the United Nations Environment Programme.
News
Our students are encouraged to find and apply to internships to see how practitioners apply their legal skills and how laws are developed. Three LLM graduates discuss their internships and how they helped their careers and preparation for PhDs.
Contact information
Address
Scrymgeour Building
University of Dundee
Dundee DD1 4HN
United Kingdom
Enquiries
+44 (0)1382 386472 or +44 (0)1382 386736