Business Economics with Marketing BSc (Hons)
Study economics and the wider business environment, with a focus on marketing in today's multi-channel environment
Start date
September 2021
Location
Dundee City Campus
Also available: Business Economics with Marketing - accelerated BSc (Hons)
Business Economics focuses on economic concepts, theories, and principles. Learn how these are applied to various business activities inside businesses or organisations and across the wider business world.
You'll develop a strong understanding of the role of marketing in today's multi-channel environment and how marketing fits into a wider organisational context.
In order to become an effective marketer, and be able to allocate resources and tap into growth opportunities, you need to understand all economic factors relating to target markets, particularly around emerging markets.
The main difference between our BSc and MA comes in the first two years. The BSc (Hons) option is for you if you want to study more business-specific subjects. You will focus on business, management, marketing, economics, and finance related core modules. We also have a three and a half year Business Economics - accelerated BSc (Hons) available for Rest of UK and International students.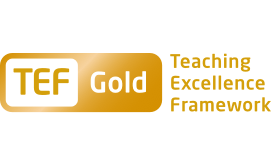 Questions? Need help?
Contact our applicant enquiry team