Strategic Conversations
We bring together people from across the forensic science and justice ecosystem, with those outside the system over two days to discuss challenges and solutions.
Our Strategic Conversations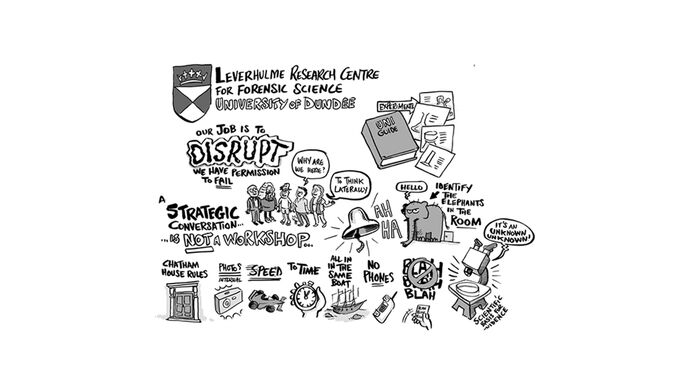 Each strategic conversation is unique, creating a common perspective on current practice and challenges and working towards a collective perspective highlighting areas where research and change is needed.
About Strategic Conversations
A Strategic Conversation is a cross disciplinary exercise focusing on a single topic that breaks down real barriers and produces real results. They are not seminars or workshops but rather concentrated fast paced discussions facilitated by a design thinking approach. Strategic Conversations are conducted under Chatham House Rule. When a meeting, or part thereof, is held under the Chatham House Rule, participants are free to use the information received, but neither the identity nor the affiliation of the speaker(s), nor that of any other participant, may be revealed.
Each Strategic Conversation produces a road map for research and development.
Fundamental aims
One of the most fundamental aims that the LRCFS seeks to achieve is to facilitate the community of practitioners to come together to do things in a different way. This presents a unique opportunity for us to be creative, think outside of the box and generate different and innovative solutions to the challenges we face.
Wide participation and different perspectives
Our strategic conversations bring together not only the relevant parties from across the law enforcement, crime scene investigation, judicial, legal and forensic specialisms, but also include colleagues not directly involved within the justice space. The intention for such a wide participation is to encourage the sharing of different perspectives and experiences and to bring a richness to our discussions, enhancing our understanding of the 'art of the possible' which we sometimes lose sight of.