The future of transfer and persistence
Forensic scientists and crime scene examiners are very good at identifying evidence from a crime scene but the importance of that evidence is often determined by how unusual it is. How important is it when a seemingly alien red fibre is found on a victim's body, when DNA is left on a coffee cup or when a shard of glass is retrieved from the sole of a shoe?
In order to understand what is unusual you need to first know what is normal. 'How do things move?' and 'how long do things stay?' are the kind of critical questions for which forensic science often lacks an answer.
In November 2017 scientists, industrialists, judges, lawyers, forensic practitioners, science communication specialists, law enforcement and academics came together to best understand transfer and persistence of materials normally encountered in different crime scenarios and across chemical, biological and particulate materials.
The group interrogated the usefulness and ease of use of existing data sets that would provide background frequency – the normal amount of substances in the environment. They explored accessibility issues globally as to how best ensure that any existing or new data sets could be used by forensic scientists. This also included questions about the development of new data sets, including issues of data acquisition, storage, curation, access as well as associated ethical and security issues.
The group worked to produce a 'Universal Experiment' for exploring how the community could work together to scale transfer and persistence experiments in a coordinated and linked way to create large scale national and global data. 
The group was joined by students from Monifieth High School who assisted in experimental design with a view to producing a universal experimental protocol for citizens science approaches to generating data. The students have since participated in the delivery of the experiments.
A follow on meeting involving the Universities of Portsmouth, Strathclyde, Northumbria, Staffordshire, Abertay and University College London refined the experimental protocols and began to collaborate together in a pilot study to deliver the process across institutions.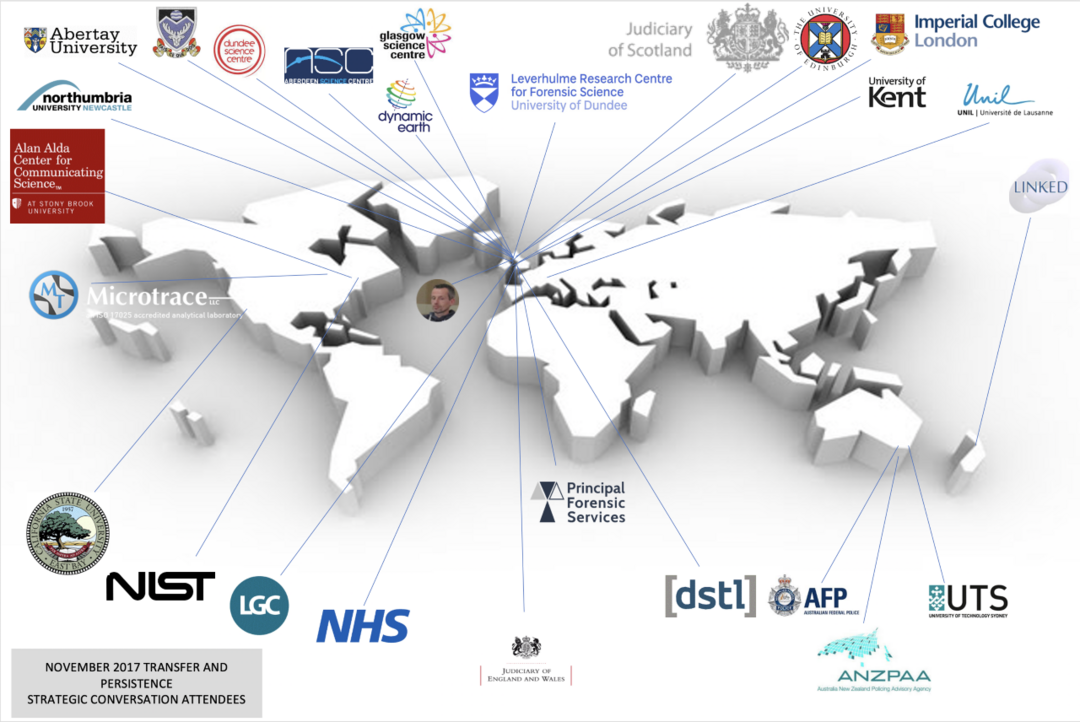 Strategic Conversation attendees November 2017
Get involved
We are undertaking a number of projects in this area and welcome collaborations.
If you want to get involved, please get in touch with us:
 +44 (0)1382 38 80 91
LRC@dundee.ac.uk