Study on exchange at the University of Dundee
Guidance for visiting exchange students on travel, visas, budgeting, accommodation, and applying for an exchange.
If we have an agreement with your current institution you can apply to come and study at the University of Dundee. View our list of partners.
Location
Dundee is at the heart of Scotland's road and rail network and puts spectacular scenery, skiing, championship golf, mountain climbing, and sailing within easy reach.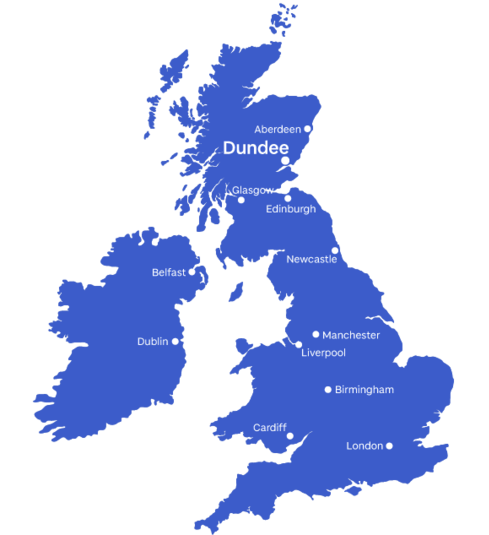 The major cities of Edinburgh and Glasgow are a short trip away. Scotland's four main international airports all operate both national airlines such as British Airways, and low-cost airlines. This makes it easy to get to all the major centres of the UK and Europe.
Travel time to Dundee:
Edinburgh airport: 1 hour 15 minutes 
Glasgow airport: 1 hour 30 minutes 
Manchester airport: 5 hours 
Birmingham: 5 hours 20 minutes 
London: 6 hours 
Costs 
As an exchange student, you do not pay tuition fees to the University of Dundee. It is worth thinking about budgeting for the living costs while on the exchange.
Learn about living costs in Dundee
Visa 
As an international student coming to study in the UK for a full academic year or a single semester you will need check if you need a visa.
English language proficiency 
All our courses are delivered in English. If English is not your first language, you will need to demonstrate that you meet our English Language requirements. This page also lists acceptable High School English Qualifications by country, which may mean you do not have to take an additional English language test. 
Housing
Living and working on campus lets you get right into student life and experience the very best that the campus and city have to offer. We have 250 self-contained flats on campus, or just across the road, so you couldn't be any closer to classes, the library, and the students' union.
All bedrooms are single occupancy with en-suite high-spec shower room.
Each flat has a well-equipped kitchen and there's a laundry on site. Staying in Dundee's accommodation means there are no hidden costs as electricity, water, internet, maintenance and personal property insurance are included in the price. 
Academic calendar 
Our academic year is divided into two teaching semesters.
Academic studies 
Your home institution will nominate you for a particular subject area, please ensure you are aware of the subject area you have been nominated for before selecting any modules.  
You will be allocated a Go Abroad Academic Coordinator from the school who will review your module selection and ensure you meet any pre-requisites for the course.  
A full course load is 60 credits per semester which is equivalent to 30 ECTS. 
At the end of your exchange, we will provide you with an academic transcript as recognition of your studies. 
How to apply for exchange 
You can only apply to us if you have been formally nominated by your home institution. Please contact them for confirmation of this.  
Once your nomination has been accepted you will be contacted directly by our Admissions team and provided with instructions on how to apply. You must apply by the relevant deadline 
Semester 1/Full Year Exchange: 15 April 
Semester 2 Exchange: 30 September 
Our Admissions colleagues will support you throughout the application process 
Download our study abroad brochure
Brochure/leaflet
Information about the City of Dundee and the University of Dundee if you are a student wanting to study at the University for a semester or year.