Ranking
The Herald Higher Education Awards 2023
The University of Dundee has been named Scotland's top university at The Herald Higher Education Awards.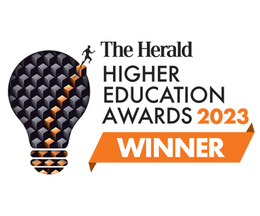 The University was named Higher Educational Institution of the Year at the Herald Higher Education Awards 2023, Scotland's premier celebration of the sector and its achievements.
The main award was accompanied by a host of individual and team awards, emphasising not only the quality but the breadth of our impact, including both a Lifetime Achievement Award for Professor Sir Philip Cohen, and one for Outstanding Contribution from a Student for Cameron Irons.
Our winners are:
Lifetime achievement – Professor Sir Philip Cohen, for his work in establishing the University as a centre of research in life sciences, a sector which is contributing hugely to the UK economy and to the development of new medicines that are transforming health outcomes for patients with cancer, heart disease and other serious illnesses.
Outstanding contribution from a Student – Law student Cameron Irons for his incredible work around student welfare (we also had Vicky Armstrong shortlisted for her Art At The Start project)
Enhancing student learning award (sponsored by QAA) – School of Business, for Developing digital marketing skills for a sustainable future
Innovative Use of Technology (sponsored by Jisc) – Leverhulme Research Centre for Forensic Science, for their use of extended reality for forensic science (also nominated was the School of Medicine's Immersion Room, which simulates high-pressure environments to challenge students during their medical training.
Learn more on the Herald website