Professor Tomoyuki Tanaka
FRSE
Contact
Email
Phone
+44 (0)1382 385814
Websites
Biography
Professor Tomo Tanaka is a research scientist and group leader. He has been studying mechanisms of chromosome segregation in mitosis, chromosome organisation in the nucleus, and how errors in these processes lead to diseases. He has been a member of the European Molecular Biology Organisation (2008-), a Fellow of the Royal Society of Edinburgh (2009-), and a Wellcome Trust Investigator (2020-). In the University, he serves as the Academic Lead of Dundee Imaging Facility (2018-) and Deputy Head of the Division for Molecular Cell & Developmental Biology (2022-).
Research
To maintain genetic integrity, a whole set of chromosomes must be inherited by daughter cells when cell division occurs. This process relies on chromosome segregation in mitosis. Errors in chromosome segregation would cause cell death and various human diseases such as congenital disorders and cancers. The research in his group focuses on two major events in early mitosis, by which chromosomes become prepared for segregation– first, chromosome re-organization involving resolution and compaction of sister chromatids; second, interactions between chromosomes and the mitotic spindle, which provide forces for chromosome segregation later in mitosis. His research aims to reveal fundamental mechanisms ensuring chromosome segregation and thus to understand the mechanisms of relevant human diseases. Please find more details of his research at https://tomotanakalab.weebly.com/research-projects.html
People in my Lab
Please find people in his group at https://tomotanakalab.weebly.com/lab-members.html
View full research profile and publications
Teaching
A)  Lectures and tutorials for undergraduate students about chromosome segregation in mitosis - Level 3 (BS31006 Gene Regulation and Expression)
B) Supervisor of Honours degree students - Lab-based projects and literature/data analysis projects
C) Supervisor of PhD students
PhD Projects
Principal supervisor
Stories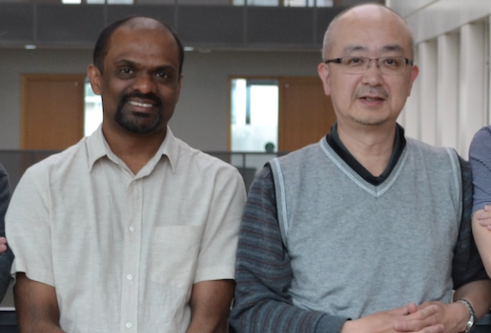 News
Researchers at the University of Dundee have discovered novel mechanisms for chromosome inheritance by recreating this process in a test tube.
News
Professors Vicky Cowling and Tomo Tanaka were given Investigator Awards from Wellcome in the recent funding round.
News
The research group led by Professor Tomo Tanaka has made a significant new discovery about how cells properly inherit their genetic information.
Research interests
Mechanisms ensuring proper chromosome segregation in mitosis
Awards
Award
Year

Major Personal Funding Awards

/

Wellcome Investigator Award

2020

Major Personal Funding Awards

/

European Research Council Advanced Grant

2013

Personal Fellowships

/

Wellcome Trust Principal Research Fellowship

2012

Fellow of the Royal Society of Edinburgh

2009

Member of the European Molecular Biology Organisation

2008

National Sciences Prizes awarded since 1990

/

The Hooke Medal of the British Society for Cell Biology

2007

Personal Fellowships

/

Cancer Research UK Senior Cancer Research Fellowship

2007

National Sciences Prizes awarded since 1990

/

Lister Research Prize Fellowship

2005

Personal Fellowships

/

Lister Institute Research Prize Fellowship

2005

International Science Prizes awarded since 1990

/

EMBO Young Investigator

2000