Impact case study
Establishing the Pitcairn Islands Marine Protected Area
Published on 12 May 2022
The protection and conservation of marine ecosystems in the waters around the Pitcairn Islands.
Image of Pitcairn Island in the distance, wileypics licensed under CC BY 2.0
Research conducted at Dundee by Professor Terry Dawson (now at King's College London) led to the creation of the Marine Protected Area (MPA) in the waters around the Pitcairn Islands. At the time of its creation in 2016 the Pitcairn Islands MPA was the largest of its kind, extending to around 4 million square kilometres, and its creation was a critical step in protecting the biodiversity of an exceptional and fragile marine environment.
Funded by the Department for Environment, Food & Rural Affairs, Dawson completed the first systematic assessment of the marine ecology of the waters surrounding the Pitcairn Islands in 2011. In doing so, his work provided a census of marine species in the area that addressed a critical gap in scientific evidence. His work provided evidence of the unique marine environment around the Islands, establishing its significance as a breeding site for a sub-species of endangered humpback whale and confirming the presence of 38 marines species listed as globally threatened on the International Union for the Conservation of Nature's (IUCN) red-list as well as species unique to the area.
Dawson's findings provided the scientific basis for a lobbying campaign led by the Pew Charitable Trusts, who had identified the islands as a potential site for protected marine reserves through their Global Ocean Legacy programme. The resulting high-profile campaign attracted support from global marine scientists and celebrities calling for the designation of the Pitcairn Marine reserve through an open letter to the Prime Minister (David Cameron). Dawson was invited to the UK Parliament to meet with ministers, and his work was directly cited in response to written questions raised in the UK House of Commons.
In September 2016, in response to the scientific evidence and the lobbying campaign, the UK Government announced the formal designation of the Pitcairn Islands Marine Reserve and the waters officially became what was at the time the largest Marine Protected Area. The zonation scheme associated with the MPA established an Exclusive Economic Zone for the whole of the Pitcairn Islands, 99.5% of which forms a non-extractive MPA. This brought commercial fishing in the area to an end, with only small-scale, licensed and artisanal fishing allowed in the remaining 0.5% – thus protecting endangered species and species unique to this sensitive environment.
Throughout the research, residents and stakeholders of the Islands were engaged in the joint development of a community-led plan to ensure the sustainable management of the marine environment and to protect it from over-exploitation. The involvement of residents in the development of legislation and associated management of the Island fisheries and biodiversity continues in partnership with the Government of the Pitcairn Islands and the development of a Fisheries Management Plan.
Read more about Geography and Environmental Science
Image credit: wileypics (licensed under the Creative Commons)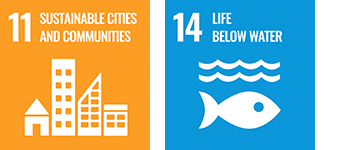 UN Sustainable Development Goals