Impact case study
3D sub sea visualisation
Published on 12 May 2022
Providing virtual access to underwater sites by advancing technologies for sub-sea visualisation.
Still from Fallen Oak documentary
Professor Chris Rowland  and John Anderson, from Duncan of Jordanstone College of Art & Design, have driven advances in 3D visualisation techniques to improve methods for capturing data from underwater sites of historical or environmental significance.
There are inherent problems in accessing underwater sites, which are often dangerous and difficult to access even with specialist knowledge and equipment. The position and location of such sites can mean important details and data are often obscured and this can be further compounded by low lighting and visibility.
Together, Rowland and Anderson have developed novel techniques to produce accurate topography of the overall shape and scale of wrecks, highlighting details and improving otherwise obscure rear-facing data. Their work has established a robust method for capturing lens-based underwater data for photogrammetry in depths of over 50m and in conditions of minimal visibility. This involved the design of underwater lighting rigs to illuminate wrecks and the adaptation of cave-diving techniques to eliminate the risk of "silt-out" further reducing on-site visibility.
Their work has informed Government policy on recording the condition of protected war-grave shipwrecks, aided the recovery of remains of WWII airmen lost in the Mediterranean, provided virtual access to maritime heritage sites for the public, and supported international salvage operations.
The methods developed from the research have been use in three major Ministry of Defence-licensed surveys of UK Naval war graves. The surveys ascertained the condition of the ships after up to a century underwater and established in each case that large quantities of live munitions remained. The findings and images were shared with the Royal Navy's bomb disposal unit, enabling them to take action to make the sites safe.
In work with the University of Malta as part of a US Government project to locate and recover military personnel lost in action, the 3D visualisation methods were used to locate and record the excavation of human remains from a B24 Liberator bomber shot down in 1943. At a depth of 65m, the Liberator is the deepest underwater project commissioned as part of the project and was only the second successful recovery of military remains from a submerged aircraft.
Maritime war graves are protected sites, to which access is rarely given. The award of a special licence to the research team has enabled images to be gathered that give virtual access to previously inaccessible maritime heritage sites for the public.
The Scapa100 project (2017-19) provided an opportunity to commemorate the centenary of the scuttling of WWI German High Seas Fleet 1919 at Scapa Flow, Orkney. The project generated 3D visualisation of the eight remaining wrecks, enabling the creation of a series of virtual reality-enhanced presentations. The interactive visualisations, 3D animations and images of the shipwrecks have been distributed online and placed in museums, providing virtual access to the shipwrecks for visitors who would otherwise be unable to experience them.
The significance of the work was confirmed by the Deputy Head of Designations at Historic Environment Scotland, who said it has "significantly helped efforts to investigate and protect the wrecks of Scapa Flow. This information is of key importance in helping us to monitor the wrecks and to consider how these sites can be best managed in the future."
Find out more about this research: Royal Navy War Graves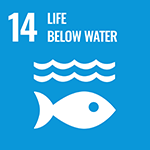 UN Sustainable Development Goals
REF 2021
The Research Excellence Framework (REF) is the system for assessing research in UK Higher Education Institutions (HEIs).