Research case studies in Psychology
Stories
Press release
The University of Dundee has been named Scotland's top university at The Herald Higher Education Awards.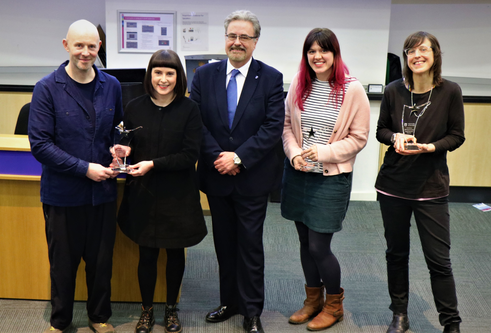 Press release
Stephen Fry has lavished praise on University of Dundee staff and students for their success in involving the public in academic research projects.
Press release
A Bangalore student whose mental health experiences have inspired his academic career has won a prestigious scholarship honouring Scotland's first non-white elected politician.
Press release
Happy music makes newborn babies sleepy, according to new University of Dundee research showing for the first time that neonates can perceive and respond to different emotions in music.
Press release
University of Dundee research has demonstrated the strength of links between mental health and confidence.
Press release
A University of Dundee project aiming to improve children's wellbeing through participation in art has received funding to expand its work to art galleries across Scotland.
Feature
Sheryl's career has seen her use her degree in a variety of ways since graduating, including in roles at an economic development agency and a water utility.
Press release
A student who spent time on the road with BBC presenter Matt Baker as part of his Great Rickshaw Relay Challenge has talked about her experiences of helping to raise millions for charity and increase awareness of her rare liver condition
Press release
Children with autism spectrum disorders (ASD) can struggle to identify other people's emotions when placed under pressure, according to research from the University of Dundee.
Press release
Researchers from the University of Dundee and University College London have found a strong link between feelings of 'emptiness' and suicidal behaviour, providing the first definition of this common but poorly understood experience of mental distress.