Contact
Email
Phone
+44 (0)1382 385033
Biography
Dr Margi Vilnay is a lecturer in Structural Engineering and the Director of Public Engagement and Outreach for the School of Science and Engineering at the University of Dundee.
Margi completed her BSc (Hons) followed by a Research MSc (Cum Laude) in Structural Engineering at the Technion - Israel Institute of Technology, investigating the protection of historic structures as part of an EU funded project.  Subsequently, Margi obtained her PhD from Heriot Watt University looking at assessing the behaviour of reinforced concrete columns under blast loads. Margi then went on to take on a role as a specialist consulting engineer in the oil and gas industry before returning to academia as the Programme Lead for the BSc (Hon) at Abertay University. Margi joined the University of Dundee in her current roles in 2020.
Margi holds a postgraduate certificate in higher education (PGCert) and is a senior fellow of the higher education academy (SFHEA).
Professional Memberships
Chartered Civil Engineer, CEng MICE
Professional Roles
Committee Member and Education Inspiration Lead for the Tayside and Fife ICE Branch
Vice-Chair of COMEC (Council of Military Education Committees)
Member of the Education and Outreach committee for the Highland Reserve Forces and Cadets Association (HRFCA)
Member of the Tayforth Universities Military Education Committee (MEC)
Committee Member of Future of Work in Construction
Student liaison officer for IstructE (Institution of Structural Engineers)
Public Engagement and Outreach
Margi is committed to increasing the number of young people engaging in STEM through public engagement and outreach activities, and in particular, the number of women entering the engineering profession. She has led several initiatives in those areas, including the first International Women in Engineering Day events in Dundee, Mentoring and outreach schemes.
In 2021 Margi was awarded funding from the Royal Academy of Engineering for a three-year Visiting Professor, Dr Ollie Folayan - a Chartered Engineer in the Oil and Gas industry and the Chair of the Scottish branch of the Association for Black and Minority Ethnic Engineers. Working together, they plan on addressing some of the key issues around both ED&I and employability and embed interactive lectures and training within the school curricula.
Research
Research/ Scholarship
Margi's research interests focus on using advanced numerical methods for finding structural response during dynamic events, such as earthquakes, blast and impact. She has received several awards for her research including the 2020 Telford Premium Prize for research papers.
View full research profile and publications
Teaching
Margi enjoys lecturing; she is committed to bringing theory to life with practical examples and tasks. In 2021 she was awarded the ED&I student led teaching award. In both 2019 and 2017 Margi was nominated as 'Outstanding Teacher' in the student-led teaching awards at Abertay University after having previously received the Langlat Award for Excellence in teaching and the best tutor award 5 times running at the Technion.
Current modules Margi delivers include:
CE12006/ GA10001: Introduction to Structural Analysis
GA20001: Structural Analysis
GA30001: Reinforced Concrete and Steel Design, Concept Design
GA40001: Advanced Structural Analysis
Stories
Press release
Secondary school pupils have been getting stuck into engineering activities as part of a University of Dundee initiative to raise local aspiration and increase diversity and inclusion in the sector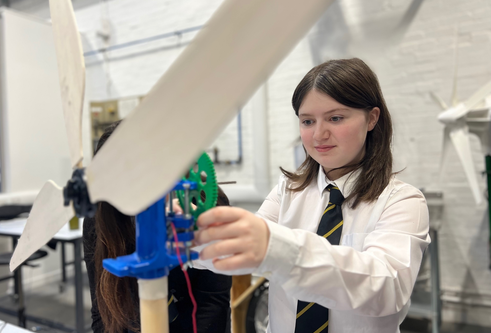 Press release
Dozens of secondary school girls are celebrating International Women's Day by trying their hands at engineering activities at the University of Dundee.
Press release
Local primary school pupils were getting their hands dirty at the University of Dundee as part of an initiative to get more girls involved in male-dominated subjects