Contact
Email
Phone
+44 (0)1382 384754
Biography
My first degree is in Geography and I have a Masters in Geography (both at Fluminense Federal University, Brazil); and a PhD in Geography (at Federal University of Rio de Janeiro, Brazil). However, my professional and academic experience has always been beyond the boundaries of Geography in a permanent dialogue with sociology, social anthropology, media studies, public health, and community learning and development.
I have worked with urban inequalities and human rights in Brazil for almost two decades. Between 2001 and 2009 I worked at the Observatory of Favelas, Brazilian civil society organisation, where I was responsible for the area of violence and human rights, and later became one of the co-directors. At the Observatory of Favelas, I developed several research and intervention projects that aimed to produce new concepts and approaches to addressing community development and human rights in contexts of armed violence. Beyond that, projects aimed to impact urban development from the favela (or 'urban periphery' in a wider sense) perspective. At the Observatory of Favelas, I have developed practical experience in research and intervention development within multi-agency collaborations at local, national, and international levels. I still maintain links with the Observatory of Favelas as part of multiple collaborations. I am also a non-executive director for the Maria and Joao Aleixo Institute – an international think tank organisation that originated from the Observatory of Favelas.
In Brazil, I was also a lecturer in Human Geography at two distinct public universities: Rio de Janeiro State University (2003-2004) and the Federal University of Rio de Janeiro (2004-2006). I also contributed to the Public Security and Citizenship programme run by the Centre for Studies on Public Security and Citizenship (CESeC) at Candido Mendes University (2008-2009).
Moving to new pastures in the UK, I had a short passage in 2009 at the London School of Economics, where I collaborated on a project on Rio's favelas. In 2010 I joined the University of Dundee, where I worked at the School of Education, Social Work and Community Education. During this period, I taught in the Community Learning and Development programme and developed research projects around policing and volunteering in the UK. In 2012, I moved to the School of Nursing and Midwifery to assist in the creation of a Centre for Inequalities that unfortunately did not materialise. After collaborating with the Social Dimensions of Health Institute, at the same school, in 2016, I moved back to the renewed School of Education and Social Work, where I reconnected with the Community Learning and Development programme. In the UK, I have always strived to apply the knowledge acquired from my experiences in Brazil and establish links between the two countries. As a result, I have been exploring the theoretical and conceptual dialogue between the 'North' and 'South' in various teaching and research projects addressing urban marginality and criminalisation of the poor in both countries.
Expertise related to UN Sustainable Development Goals
In 2015, UN member states agreed to 17 global Sustainable Development Goals (SDGs) to end poverty, protect the planet and ensure prosperity for all. This person's work contributes toward the following SDG(s):
No poverty
Good health and wellbeing
Quality education
Decent work and economic growth
Reduced inequalities
Sustainable cities and communities
Peace, justice and strong institutions
Research
I am interested in critically exploring how symbolic violence and hegemonic epistemologies shape institutions, policy and practice. My research is informed by critical social theory and decolonial studies to look at how peripheral epistemologies and agency can reshape the way institutions, policy and practice are conceptualised, designed and operationalised. I have applied this theoretical and conceptual framework in a range of research studies that looked at the issues of institutional violence, human rights and the criminalisation of peripheral groups.
I am interested in urban inequalities with special attention to the role of stereotyping social representations on policy and practice addressed to peripheral groups. I have empirically explored this in Brazilian favelas and, most recently, with vulnerable groups in Scotland. I am interested in the role of stigmatisation and penalisation of the urban poor in reinforcing socio-spatial inequalities. I am concerned about the mechanisms of socio-symbolic depreciation and spatial containment of groups considered threatening and undesirable in the urban space. These mechanisms constitute 'pedagogies of monsterisation' underpinning negative othering in neoliberal societies. 
In my work, I understand stigmatisation as a symbolic resource that is used to mobilise public consensus and indifference to justify oppressive practices that can result, for example, in the discriminatory treatment some groups receive in public services (as is the case of benefit claimants) or, in extreme situations, in the social acceptance of the physical elimination of certain groups (as observed in the case of the death of black poor youngsters in Brazilian cities). As a result, I challenge stigmatising practices performed by practitioners and reproduced by social policy and propose the development of 'pedagogies of coexistence' in the city.
I am interested in theories and concepts that consider the tensions between structure and subjects on the make of oppressive and emancipatory practices. Most specifically, I am interested in the paradigm of potency as a key reference to develop concepts that can challenge the hegemonic political, academic and aesthetic representations and conceptualizations of marginalised groups and their spaces of existence, survival and resistance.
Most of my work relates to the experiences of stigma, violence and human rights violations experienced by peripheral groups in Brazilian cities. Over the past few years, I have been using this conceptual framework to explore the dimensions of symbolic violence and urban marginality in Scotland and the wider 'Global North'.
Areas of interest
Stigma, social representation and symbolic violence (stigmatisation, practitioner attitudes towards marginalised groups; impact of social representation of poverty on policy and practice; anti-stigma agency)
Urban marginality (urban-segregation; urban/community development)
Youth (children in conflict with the law; youth work; youth agency)
Violence and Human rights (youth homicides; institutional violence; public security)
Criminal justice ('penal-state' theories; juvenile justice system; policing)
Latin America and Brazilian urban studies (focus on the militarization of urban security)
Critical Policy Studies (focus on discourse analysis and its relationship with policy design and policy implementation)
Decolonisation (focus on peripheral epistemologies)
Some examples of areas I have worked
Stigmatisation, police violence and human rights violations in Brazilian favelas
Alternatives to the involvement of young people in drug trafficking gangs in Brazil
Violence prevention programmes aimed at the youth in Brazil
Community development interventions with a focus on community agency, participatory action research and inter-agency work in Brazil
Impact of Mega-Sport Events on children's rights (Brazil 2014 FIFA World Cup)
Police force training development in Brazil and Scotland
Destitution in the UK with focus on people affected by homelessness
Health rights in the juvenile justice system in Europe
Training and strategies to better prepare practitioners and higher education students to work with marginalised groups in Scotland
Experience in collaborative work with governments, international agencies (UNICEF, ILO, UNESCO) and grassroots organisations
View full research profile and publications
Teaching
Teaching and training have always been important to my professional engagement. Before joining the university, I was already involved in teaching and training activities. I was a university lecturer in three Brazilian universities. I have been involved in designing and delivering a range of professional development activities addressed to practitioners, social activists, and policy makers. I have also taught at the secondary level, being involved in 'pre-vestibular' (exam to access universities in Brazil) courses based in community organisations and delivered to marginalised youth.
At the University of Dundee, I have been designing, developing, and delivering undergraduate and postgraduate programmes. I have extensive postgraduate supervision experience. I have also acted as an internal/external examiner for PhD viva and upgrade reviews and convening roles for TMCs and Upgrade Reviews.
PhD Supervision
Current topics under supervision
First supervisor
Human rights violations in the Juvenile Justice System in Morocco
Social representations of Gypsy Travellers in the UK
Professional development to enhance the teaching and learning of science in Ireland
One-to-one models of learning within international schools in Malaysia
Challenges faced by recently qualified social workers in Scotland
Stigma, practitioner attitudes, leadership and health inequalities
Health inequalities, practitioner attitudes and the juvenile justice system
Attitudes of school teachers and marginalisation of vulnerable children
The impact of austerity on community development and older people in rural Ireland
Past supervised topics
Social worker's discourses and practices toward asylum seekers in the UK
Challenges faced by migrant farm workers in Scotland
Social worker attitudes towards health visitor's views on child neglect in Scotland
Policing street children in Sao Paulo, Brazil
Female community leadership in Brazilian favelas
Policing and human rights in Brazil
Community development in Scotland
Community Development in Pakistan
Depression factors for the elderly in India
Right to Health in Prisons
Equality and Diversity in Prisons - the situation of LGBT prisoners
Access to oral public health of immigrants and refugees in Scotland
There are also several Master's supervised dissertations not listed here.
Stories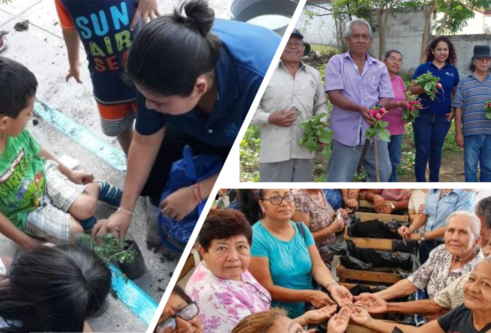 News
The Community Gardens Beyond Communities programme brought together a range of community workers, activists and academics, involved in community gardens and community food growing projects.
Press release
English and Scottish prisons are "traumatising, rigid and frequently dangerous places" for LGBT+ inmates, a University of Dundee study has found
Media availability
I am available for media commentary on my research.
Contact Corporate Communications for media enquiries.
Areas of Expertise
Crime
Education
Social care