Contact
Email
Phone
+44 (0)1382 383812
Biography
Dr Ellie Hothersall graduated from University College London in 2000 with an Intercalated BSc in Medical Anthropology (1st Class Honours), and with MBChB from the University of Glasgow in 2001. Since then, her career has taken her through a postgraduate certificate in Health Economics at University of Aberdeen, an MD from the University of Glasgow, and most recently a Masters of Medical Education from the University of Dundee.
She completed Higher Specialist Training in Public Health in the West Midlands, and was an NIHR Clinical Lecturer in Public Health at the University of Birmingham. She has completed the NIHR Clinical Academic Leadership programme at Ashridge as part of that Fellowship.
She is a Fellow of the Royal Anthropological Institute, and of the Faculty of Public Health.
Ellie moved to Dundee in 2011, initially in a combined research and teaching role. From 2011 to 2017 she was Theme Lead for Public Health and latterly Evidence Based Medicine. She became Deputy Convener of Systems in Practice in 2012, and Convener in 2013. In 2018 she was appointed as head of the MBChB programme. Between 2015-18 she was also Post Graduate Training Programme Director for Public Health in Scotland. She is a member of the Medical Schools Council Assessment Alliance Board. She is an Honorary Consultant in Public Health in NHS Tayside, where she is Associate Director of Public Health.
Research
Dr Hothersall has a research interest in teaching and assessment of Public Health and related subjects.
She completed a Masters thesis exploring use of multiple choice questions to assess public health, sociology, psychology and evidence based medicine, and is in the process of a BEME systematic review of assessment of the same topics.
View full research profile and publications
Teaching
Dr Ellie Hothersall is currently the Programme Director for the MBChB degree at the Medical School. She is extensively involved in curriculum design, teaching, assessment and student well-being, and has a national role in assessment.

She has recently been an external examiner for the postgraduate Masters in Public Health at Queens University Belfast and Warwick University, and undergraduate teaching at Leeds and Manchester medical schools. She is currently external examiner for the Health Informatics module at University of Edinburgh medical school.
She has prior experience of teaching at undergraduate and postgraduate level at a number of universities in the West Midlands, and of curriculum development at Keele University.
Stories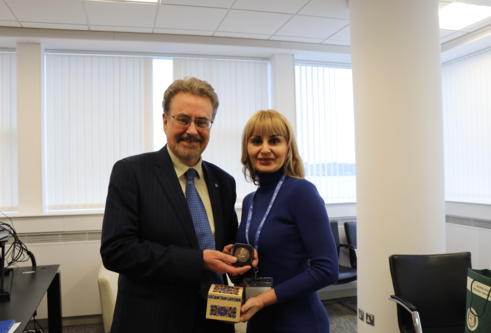 Press release
The University of Dundee has been commended for its support of medical students displaced by the war in Ukraine
Press release
The University of Dundee has welcomed two students from Ukraine's Dnipro State Medical University, who have travelled to Scotland to train at Dundee's School of Medicine
Press release
A group of Ukrainian medical students will continue their education in Scotland following the signing of a twinning agreement with the University of Dundee.