Study abroad information for University of Dundee students
Information about preparing for studying abroad including funding and scholarship opportunities.
Preparing and planning for your time abroad
The Go Abroad student handbook is for University of Dundee students who have applied to spend a semester or year studying abroad. It contains information about preparing and planning for your time abroad.
Modules and academic recognition if you are studying abroad
An exchange opportunity means that you will be spending time studying abroad, rather than at Dundee. There are a few things that you need to consider when preparing for this experience. 
You will gain academic credit from your studies abroad. This means there is no need to repeat a year or semester assuming you pass your courses whilst abroad. 
When you are at one of our partner institutions, you will be able to study in a different culture with a different learning and teaching environment. 
Module selection 
You can take modules that are relevant to your degree, but not offered in Dundee, which can give you a different perspective on your studies. 
Your Go Abroad Academic Co-ordinator (GAAC) will advise you on the modules/courses you need to take at the partner institution. 
You'll make your choices on a Learning Agreement document before the start of your exchange. This needs to be approved by yourself, your GAAC and your host institution. This is the document that ensures the modules your study whilst abroad will support your academic progression upon return. 
If you need to make any changes to your courses whilst abroad, you should contact your GAAC for advice/approval. 
Degree classification 
For students who go abroad in level 3, you will receive full recognition of any credits taken whilst abroad, however, the grades you achieve whilst abroad will not be used to calculate your degree classification. This is to make sure you can focus on doing well academically but also allowing you to make the most of your time abroad. 
If you have any questions about academic recognition, contact your Go Abroad Academic Co-ordinator. 
Finance
Finance is one of the key points for you to consider when considering study exchange. The table below gives an indication of additional costs when you are abroad. 
Costs comparison
| UoD student costs | Study exchange costs  |
| --- | --- |
| Tuition fees | Pay tuition fees to UoD |
| Accommodation | Accommodation |
| General living costs: food, utilities, local travel, textbooks, materials, social activities | General living costs: food, utilities, local travel, textbooks, materials, social activities |
|   | Return travel/flights |
|   | Study permit/visa |
|   | Compulsory medical insurance |
You are still entitled to UK student bursaries, grants and loans whilst abroad.
*UoD Bursaries/Scholarships can be affected if on exchange for full academic year Enquires to Student Funding Unit or Registry Fees Office
Funding
Turing Mobility Scheme funding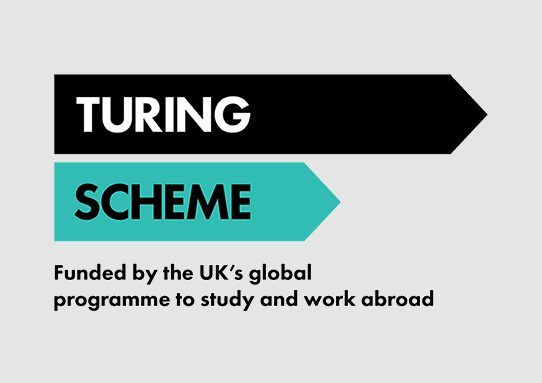 The University submits an annual funding bid to this external scheme for a financial award to support our students undertaking study exchange overseas. From this award we aim to offer financial support to students to contribute to the costs of their exchange. All eligible students would receive cost-of-living support and students who identify as disadvantaged against Turing criteria would also receive a higher amount of cost-of-living support, funds to support return flights and reimbursement of any visa costs. 
The outcome of the application is generally known by late summer and the Go Abroad Team will contact students accordingly. At present there are no guarantees that this funding will be available. 
Scholarships 
University of Dundee Go Abroad Scholarship
The University is committed to enabling students to experience time abroad during their studies with us. Bi-annually several Go Abroad Scholarships are offered for financially disadvantaged students. 
The value of the Scholarship is subject to change but can be approximately £1,400 per semester of study abroad exchange. 
Eligible applicants 
Current undergraduate students who have been provisionally approved for full academic year, semester 1 or semester 2 study exchange during the next academic year to long haul (non-EU) destination  
How to apply 
You will be expected to complete an online application by identified deadline. Information will be provided here when next application window opens. 
Stevenson Exchange Scholarships
Sir Daniel Stevenson was a Glasgow-born engineer, politician and philanthropist. His legacy lives on via the provision of these Scholarships which are for the promotion of friendly relations between students of the universities of Scotland and France, Germany and Spain. 
The value of this Scholarship is based on successful application and interview. In recent years they have ranged from between £250 to £3000 
Eligible Applicants 
Current undergraduate students of no more than 25 years of age who have been provisionally approved for study exchange in France, Germany or Spain in the next academic year. There is no requirement to be a studying French or Spanish. 
How to apply 
Application forms are available from: 
Karen Stulka, Academic & Corporate Governance, 6th Floor, Tower Building 
Email: k.f.stulka@dundee.ac.uk 
The next application deadline will be 31 January 2024 for study exchange during 2024/25 
BUTEX Scholarship
The University of Dundee is a member of BUTEX (British Universities Transnational Exchange Association) Each year BUTEX awards several Scholarships  
Eligible applicants 
Current undergraduate students who have been approved for study exchange for a semester or full academic year of the next academic year.  
How to apply 
The Go Abroad Team receives application information from BUTEX and distributes to eligible applicants normally during the summer 
Study Exchange Partner University Scholarships 
There is no definitive list but on occasion some of our partners offer scholarships to their inbound exchange students. Information is provided to the Go Abroad Team directly or can be available on the partner website. 
Find a study abroad opportunity
Apply to spend a study period abroad on an exchange programme at one of our partner institutions.