Feature
Military Precision
Published on 7 July 2021
The army medic transforming modern surgery.
In the space of two years, Firas Bakri graduated with a Masters in Orthopaedic and Trauma Surgery, established a business and won the Centre for Entrepreneurship's School of Medicine Venture Award. He shares how he used his surgical background to launch this new business in disruptive medical technologies. 
If you walk across the Seabraes Bridge in Dundee you will surely spot a bright yellow and grey building as you approach the steps to the city centre campus.  This innovative building constructed out of 37 upcycled shipping containers is home to a thoroughly innovative business, Xavier Bionix, co-founded by Dundee alumnus, Firas Bakri. How did a military surgeon from Jordan find himself setting up a Medtech business in Dundee? 
"I spent nine years of military service on missions in Africa and in war zones in the Middle East," explained Firas.  
"I realised the mechanical concept behind external fixators, which are stabilising devices we use to fix bones, was unchanged since its invention. I had a passion for innovative technology, and so I started applying different technologies eventually coming up with a concept to 3D print the fixators." 
Armed with this concept, Firas left the military and started exploring universities where he could research and develop. This is when he came across Dundee. 
"I looked into Dundee's history, particularly its gaming and computing reputation as well as the reputation of the University and its School of Medicine."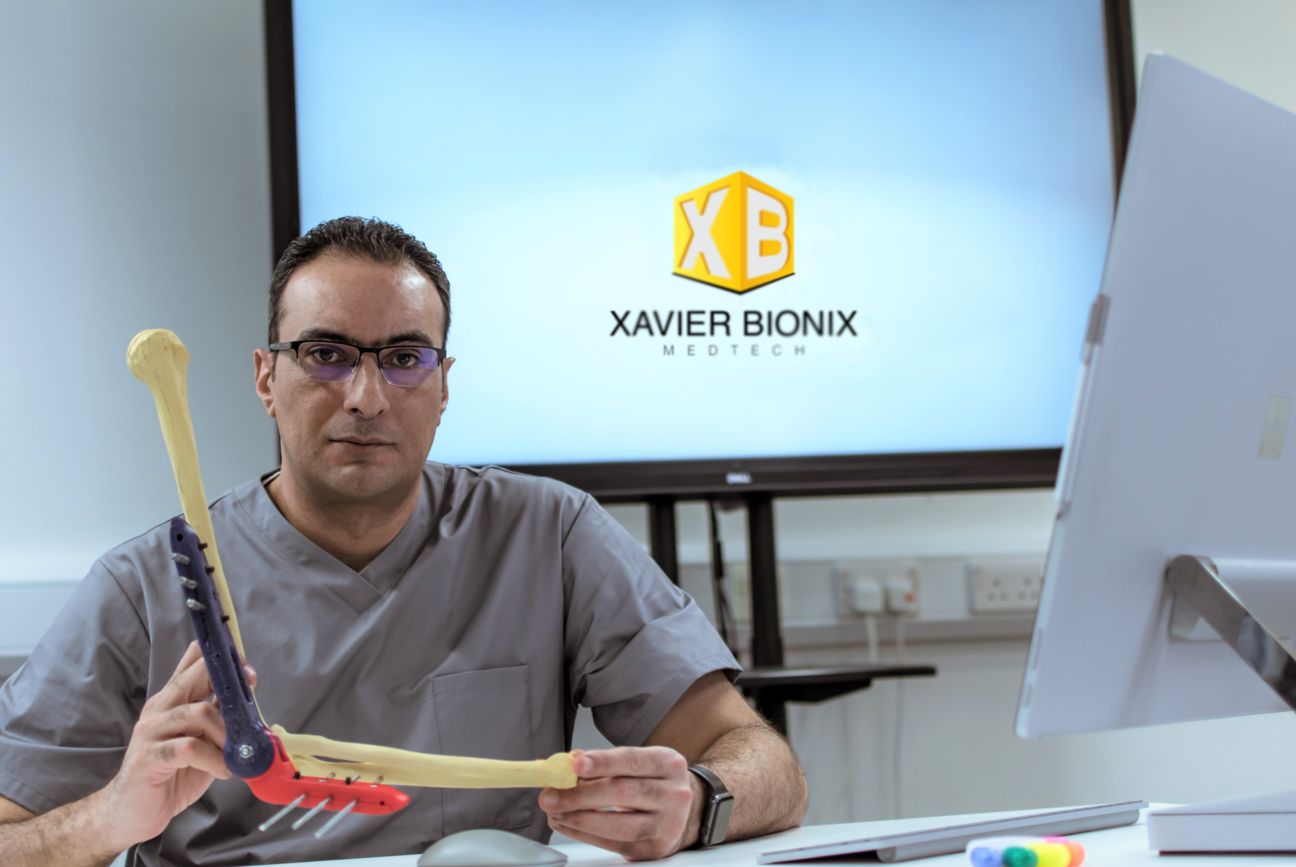 "I asked the School whether I could explore my concept as part of a Masters degree in Orthopaedic and Trauma Surgery and they agreed. I then came with my wife, three kids and two dogs to Scotland"
Firas Bakri
With his supervisor, Dr Tim Drew, Firas began to research custom made external fixators using Computer Aided Design, 3D Scanning and 3D printing, a learning curve for him.  
"I mean, I'm in the middle of a Masters degree!", he laughed. "I started looking for help in Dundee from organisations like Makerspace, finding people who could work with me to develop this passion." 
After submitting his thesis, Firas sat down with Centre for Entrepreneurship staff to explore creating a business from his research.  With the help of Brian, Chris and Zoe from the Centre, he completed the Elevator Business Accelerator Programme. This was another learning curve for Firas. 
"I'd always been a surgeon until that day, I've never been a businessman. I didn't know how to establish a company, how to do spreadsheets, to forecast numbers, especially coming from a different continent. This programme was like a jump start." 
With this programme and further support from the Centre, Firas' new business, Xavier Bionix, was incorporated. Within three months they were enjoying success as winners of the School of Medicine Award at the Venture 2021 Competition.  
Xavier Bionix specialises in developing emerging and disruptive technology for use in the medical industry. As well as the external fixator device the business is developing their core product, Cyclops. Cyclops is a mixed reality software application converting images from CT and MRI scans into 3D models. Using a HoloLens device, users can simulate and plan for surgical operations. They are also working on an option called 'remote assist', whereby two surgeons in different locations wearing the HoloLens can view and collaborate on the same 3D model. Firas believes that this technology will significantly impact hospitals, including the training of new surgeons.  
"Surgeons have never had the luxury of training where you start soft. Mistakes are catastrophic and stress levels are high. Today I could give a surgeon the chance to rehearse in real time. Imagine how that could increase confidence particularly in complex cases where a single step could change the whole outcome." 
It will also increase the longevity of more common surgical procedures such as knee and hip replacements.  
"Replacements don't last as long as they should, not because the method wears off but because there is a critical area where a component sits on whereby if a bone comes loose, the implant wears.  With this software I could place the implant in a more accurate position that will govern its longevity."  
His business partners and non-executive board members include those he met through the Centre as well as those who supported his thesis idea. The business is proudly Dundee-based. 
"I couldn't imagine somewhere better to develop what I was thinking about than Dundee. The technology that we are using is coming from gaming technology, my partners are from the gaming and computing industries and Dundee is very collaborative. We are just new players in a market that's developing. It's fun but as with every start-up, it's full of uncertainty. But we have enough support and the right ecosystem in Dundee and Scotland. I think that the time is now for companies and ideas like ours to prove this." 
The Bridge
Read the rest of The Bridge and more of our stories