Impact case study
Comics Jam
Published on 17 May 2022
Research into comics has led to new partnerships and publications tackling issues of public interest.
The work has been the foundation for collaborative creative processes that have directly engaged individuals and organisations, resulting in new approaches to the communication of emotive and misunderstood topics.
Drawing on their expertise in comics, Professor Chris Murray and Dr Golnar Nabizadeh have worked together to develop a unique approach that combines creative practice with research. Their work is based in the understanding of the ways in which comics can be used both as a means to transmit serious messages in accessible ways - such as the communication of health information to mass audiences - and as a powerful mechanism that gives a voice to those with misunderstood illnesses, disabilities or needs.
Drawing on Murray's expertise in comics as a means of public communication, and Nabizadeh's specialist knowledge on comics, trauma and memory, they formed the project Comics Jam in 2016. The project used a range of novel approaches such as eye-tracking to better understand how readers navigate between verbal text and images, and how these elements and content drive the attention of the reader. The practical knowledge generated through the research has provided the foundation for a creative process that actively involves diverse groups such as researchers, comics creators and partners in the design of public information.
Working in conjunction with colleagues from the School of Education (Professor Jindal-Snape) and Humanities (Mayra Crowe), the research team has developed a network of 18 partners including charities and bodies such as the NHS and Dundee City Council and has created over 20 comics using the Comics Jam process of co-design. The comics tackle challenging issues of public interest, such as prejudice, bereavement and misunderstood illness as well as complex scientific issues.
The project has provided a voice for people directly affected by misunderstood heath conditions, disabilities and traumatic circumstances. The comic Fibromyalgia and Us contains four stories from people with fibromyalgia, including the perspective of family members and professionals. The title gained international traction with significant media coverage and generated hundreds of responses from readers. Its inclusion as an article in The Mighty (a digital health community with over 2 million registered users) generated nearly 30,000 views overnight, overwhelming the website.
For those involved in the process of creation, it has provided a sense of validation that for some had been years in the making, as one participant commented on seeing the final version of the comic "It was a moment of pure catharsis… years of health-related anger and holding health-related information in my head were gone".
Other titles have had benefits for readers seeking to navigate complex and emotive issues such as organ donation and childhood bereavement by providing an opportunity for those affected to communicate their stories and experiences in new and powerful ways and acting as a resource for loved ones and professionals to ignite discussions on difficult topics.
For the creators involved in Comics Jam, additional benefits have come through the provision of facilities and studio space that has supported the development of skills and expertise leading to employment, including the creation of an independent spin-off public information comic project.
Find out more about the Scottish Centre for Comics Studies
Access our Public Information and Educational Comics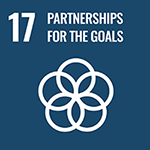 UN Sustainable Development Goals
REF 2021
The Research Excellence Framework (REF) is the system for assessing research in UK Higher Education Institutions (HEIs).