Contact
Email
Phone
+44 (0)1382 388637
Websites
Biography
Gary Kennedy originally trained as a civil engineer and later in Interiors. He is a graduate of the RCA's Architecture & Interiors MA and Duncan of Jordanstone College of Art & Design- both leading design institutions. He is a passionate and committed design practitioner with extensive experience within the creative industries. He is co-founder of the Architectural practice, Kennedy Twaddle, which was established in London in 2000 and has set up a Dundee branch of the practice in 2009.
In a highly competitive London design scene, Gary and Kennedy Twaddle have been the focus of a substantial article in Blueprint, (May 2008) that acknowledges the practice as amongst the leading young design groups in the UK. They have also been featured in the book 'Architects Sketchbooks' (2011) along with Sir Norman Foster and Wil Alsop published by Thames and Hudson. Gary worked for Tom Dixon and was tutored at the RCA by Nigel Coates, Zaha Hadid, David Adjaye, Eva Jiricna, Alex De Rijke (dRMM), Urban Salon, Muf Architects, FAT Architects and Ron Arad.
He has an extensive background in the creative industries across a range of disciplines achieved over a sixteen year period in designing built and virtual environments from interior design, architecture, film making, furniture design, to drawing and painting. Gary and Kennedy Twaddle are recognised for the very distinctive position they occupy as talented Interior graduates competing with architectural practices, and is a very productive studio with an exciting folio of projects.
Gary has made a valuable contribution to the Design + Craft restructuring proposal. Gary is an author in the GIDE, the Group for International Design Education publication, 'Design for Innovative Communities' book, (published by Maggioli Editore and Politecnico di Milano), and recently co-authored a paper at the Interior Futures 11 Conference at University of Northumbria on domestic technology and utopias. This will for part of Interior Directives published by Libri in 2012.
Awards
Award
Year

Engagement Project of the Year

/

'Home Fae Home' was a project led by Linsey McIntosh and Gary Kennedy, both from Duncan of Jordanstone College of Art and Design. The project involved working with young people from a youth-group organisation called The Hot Chocolate Trust charity, to co-design a range of new spaces within their existing building. These spaces were designed to increase a sense of home, belonging and safety for young people. They were also designed to help reduce stress, aid the recovery from adversity and trauma, and create many new opportunities for young people to develop additional skills, confidence and experiences which will help them to thrive in life. 

2023
Stories
News
Insights into the collaborative creative process behind the Union Street Transformation Project.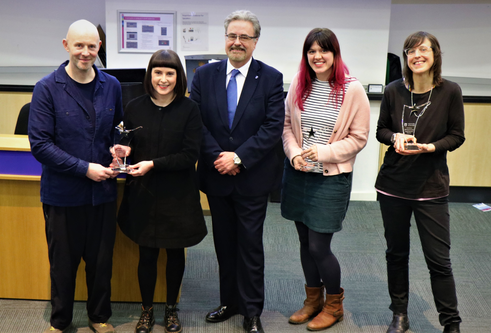 Press release
Stephen Fry has lavished praise on University of Dundee staff and students for their success in involving the public in academic research projects.