Biography
Amy gained a BSc in Neuroscience and MSc in Oncology from the University of Nottingham before taking up a BBSRC-CASE funded PhD at the University of Edinburgh under Professor Veronique Miron. Here she studied the role of microglia in remyelination and identified pro-inflammatory microglial necroptosis as a regulatory mechanism of inflammation and was essential for efficient remyelination. Her PhD research paper was awarded the Jean Corsan Prize by ARUK for best scientific paper in neurodegeneration from a PhD student.
Amy joined the University of Dundee in late 2019 as a UK Dementia Research Institute Postdoctoral Research Fellow supervised by Dr Andy Howden and Professor Bart De Strooper (UCL) where she uses mass spectrometry and proteomics to investigate microglia biology in health and disease.
In 2023 Amy was awarded the Race Against Dementia – Alzheimer's Research UK fellowship to characterise the dynamic functions and phenotypes of microglia in Alzheimer's Disease.
Research
Microglia are the resident immune cells of the central nervous system (CNS). Developmentally, microglia play important roles in axon guidance, synaptic pruning, supporting neuronal survival and myelination. Microglia are maintained in a homeostatic state of surveillance of their environment, constantly extending and retracting their processes to detect any disturbances, such as cellular damage or presence of pathogens. Their diverse sensome means that they are the first line of defence in the CNS. As a result, can microglia rapidly and dramatically alter their phenotypes and functions in response to a diverse range of stimuli, including increasing their phagocytosis of cellular debris, adopting a potent inflammatory state in response to infection, and secretion of growth factors to promote brain repair.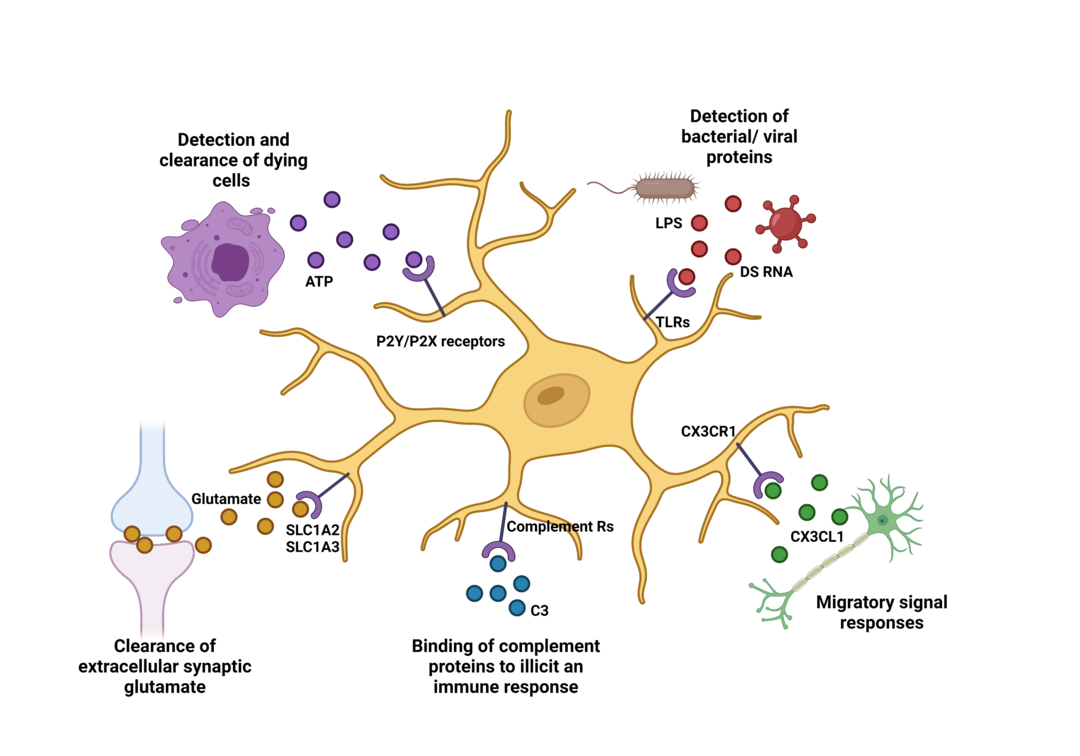 Microglia are also heavily implicated in Alzheimer's Disease (AD). AD is a progressive, neurodegenerative disease characterised by progressive loss of neurons, increased inflammation and the presence of toxic protein aggregates called amyloid beta plaques and hyperphosphorylated tau tangles. Although the causes of AD can be multifactorial and hard to predict, there are strong genetic correlates that increase incidence risk. Many of these risk variants are found in genes that are highly expressed in microglia, including APOE, TREM2 and BIN1.
Evidence suggests that the role of microglia in AD represents a double-edged sword. PET/MRI imaging and post-mortem staining of human brains have identified an early wave of microglial activation associated with amyloid beta clearance and neuroprotection in the prodromal disease stage. However, over time microglia become dysregulated, appearing to promote disease progression by their chronic and cytotoxic inflammatory phenotype and their encouraged seeding of protein aggregates in the brain.  How microglia phenotypes and functions change over time as disease progresses however remains poorly understood.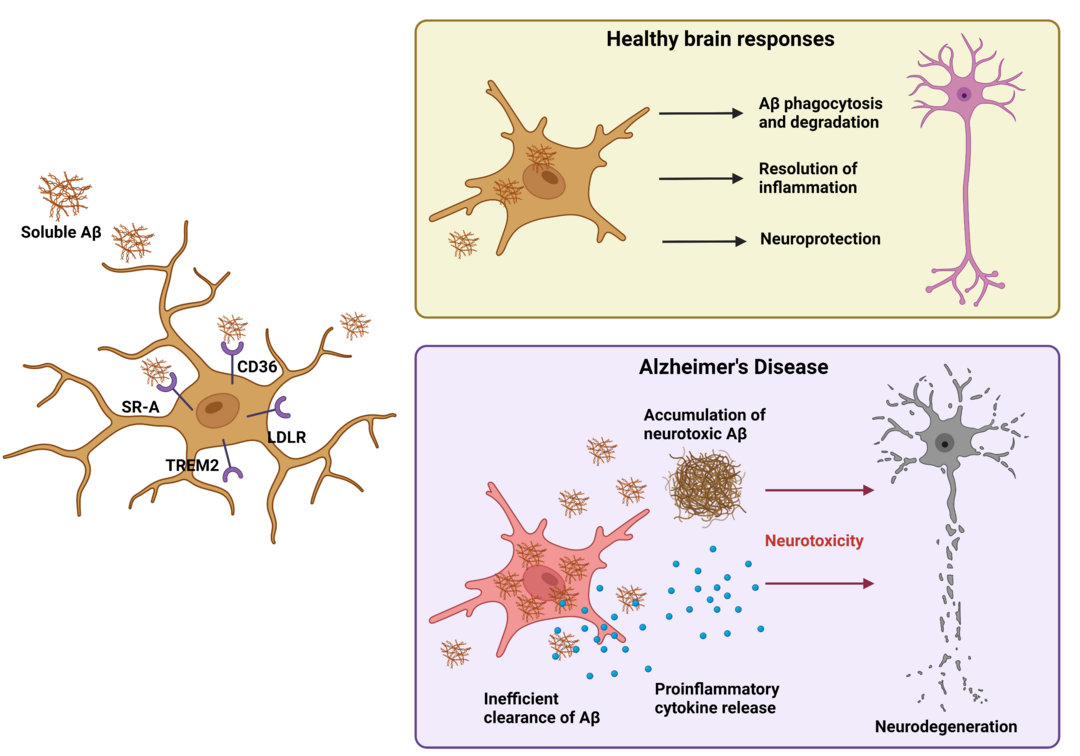 My research aims to use proteomics to define microglia responses to protein aggregates from the prodromal phase to the chronic phase of disease. By understanding how and why microglia phenotypes and functions change throughout disease progression, we may identify important molecular mechanisms that can be therapeutically targeted, allowing us to harness the early neuroprotective properties of microglia in AD.
Selected Publications
Deep proteomic analysis of human microglia and model systems reveal fundamental biological differences of in vitro and ex vivo cells.
Amy F Lloyd, Anna Martinez-Muriana, Pengfei Hou, Emma Davis, Renzo Mancuso, Alejandro J Brenes, Ivana Geric, An Snellinx, Katleen Craessaerts, Tom Theys, Mark Fiers, Bart De Strooper, Andrew JM Howden.
BioRxiv 2022.
Astrocyte-Oligodendrocyte interaction regulates central nervous system regeneration
Irene Molina-Gonzalez, Zoeb Jiwaji, Owen Dando, Katherine Emelianova, Rebecca K. Holloway, Amy F. Lloyd, Ayisha Mahmood, Thomas Skripuletz, Lindsey Forbes, James A. Febery, Jeffrey A. Johnson, Jill H. Fowler, Tanja Kuhlmann, Anna Williams, Siddharthan Chandran, Martin Stangel, Andy Howden, Giles Hardingham, Veronique E. Miron.
Nature (under review). 2021.
Generation of pure monocultures of human microglia-like cells from induced pluripotent stem cells.
Banerjee P, Paza E, Perkins EM, James OG, Kenkhuis B, Lloyd AF, Burr K, Story D, Yusuf D, He X, Backofen R, Dando O, Chandran S, Priller J.
Stem Cell Res. 2020 Dec; 49:102046. doi: 10.1016/j.scr.2020.102046.
Central nervous system regeneration is driven by microglia necroptosis and repopulation
Amy F. Lloyd, Claire L. Davies, Graeme Ireland, Alessandra Dillenburg, Rebecca K. Holloway, Eva Borger, Daniel Soong, Jill C. Richardson, Tanja Kuhlmann, Anna Williams, Jeffrey W. Pollard, Josef Priller, Veronique E. Miron.
Nature Neuroscience. 2019, 22(7):1046-1052.
The pro-remyelination properties of microglia in the central nervous system
Amy F. Lloyd, Veronique E. Miron.
Nature Reviews Neurology. 2019. https://doi.org/10.1038/s41582-019-0184-2
Stem cells from human apical papilla decrease neuroinflammation and stimulate oligodendrocyte progenitor differentiation via activin-A secretion
Pauline De Berdt, Pauline Bottemanne, John Bianco, Mireille Alhouayek, Anibal Diogenes, Amy F Lloyd, Jose Gerardo-Nava, Gary A. Brook, Véronique Miron, Giulio G. Muccioli, Anne des Rieux. Cellular and Molecular Life Sciences. 2018, 75(15): 2843-2856.
Microglia: origins, homeostasis, gene expression, and roles in central nervous system repair
Amy F. Lloyd, Claire L. Davies, Veronique E. Miron.
Current Opinion in Neurobiology. 2017, 47:113-120.
Cellular and molecular mechanisms underpinning macrophage activation during Remyelination
Amy F. Lloyd, Veronique E. Miron. Frontiers in cell and developmental biology. 2016, 4(60): 1-8.
Stories
News
Amy Lloyd has been awarded a £500,000 Race Against Dementia and Alzheimer's Research UK 5-year research Fellowship to study one of the pre-clinical phases of Alzheimer's Disease.
News
Dr Amy Lloyd from the School has been awarded the Jean Corsan prize by the country's leading dementia research charity Alzheimer's Research UK for the best scientific paper by an early-career researcher.
Press release
Dr Amy Lloyd from the University of Dundee has been awarded the Jean Corsan prize by the country's leading dementia research charity