Feature
The World's First Forensic Jeweller
Published on 4 June 2021
Find out from alumna Dr Maria Maclennan how her lifelong passion allowed her to explore crime, death and disaster through the investigative lens of jewellery. 
Dr Maria Maclennan - photo by Claire Maxwell for the Financial Times
Have you ever wondered where the link between jewellery design and forensic science would even begin? Duncan of Jordanstone College of Art & Design (DJCAD) alumna Dr Maria Maclennan sat down with Alumni Engagement Coordinator, Craig Reoch, to discuss all things University of Dundee and how her award-winning PhD pioneered an innovative method of forensic profiling, while staying true to her roots and her passion for jewellery design.
Maria knew from a young age she wanted to go to art college, but her journey from a small village in the Highlands of Scotland where she grew up to beginning her undergraduate studies at DJCAD was not linear: 
"I had never visited Dundee other than the time I came down with my art teacher in school – I had no family connection and didn't know much about the city at all. As a little girl I always had my heart set on moving to Glasgow and I landed an interview at the Glasgow School of Art. They were lovely, but said I was a little too young still. I was only 17 and they weren't sure whether I was ready. I had already been accepted at the University of Dundee and the jewellery department had a great reputation. The art school was great, and the city seemed fantastic too, so I happily accepted that offer." 
Luckily for the University of Dundee, Maria believed in herself and knew that age was just a number. It didn't matter to her if she was considered by some to be 'too young' - she knew she wanted to get started on her academic journey.  
"I thought if I was good enough, then art school will help nurture me and that's exactly what Dundee did. They threw me a bone, and I think that happens often with Dundee - they always get a great pool of applicants." 
Maria entered the general foundation course for the first year of her undergraduate studies before specialising in jewellery. She described how she was initially unsure of the path she wanted to take, but how this all changed through learning more about herself and her interests: 
"I had a blast at Dundee and I wouldn't have stayed as long as I had - both at DJCAD and in the city - if I didn't enjoy it. I specialised in jewellery because I was always fascinated by it, but I didn't really enjoy being in the workshop designing and making pieces as much as some of the other people on the course did. The parts I always really liked were the research elements or the design development where I got to sit down with my sketchbook and map out my ideas."
One of Maria's original undergraduate degree show pieces
The more research-focused aspects of jewellery design such as writing her dissertation and the realisation that she didn't enjoy 'making' led Maria down a new path. She still carried on the fascination for jewellery which she'd had since starting at DJCAD and used this to redirect her focus and find out what she really did and didn't like. She knew she loved jewellery and she knew she loved research.  
With this in mind, Maria then entered her postgraduate studies as she embarked on the art school's 'Master of Design' programme (the closest equivalent of which now is the 'MSc Design for Business' course) which involved a lot of co-design, participatory design and working with industry.  
"I felt that my jewellery degree helped me to narrow down my specialism, while the master's degree then widened it back out again. It taught me how to apply all the design skills which I didn't even know I had to all sorts of design projects. The holistic skills I learned and honed as a designer - such as being collaborative and user-centred, and using these methods to solve problems and engage others - all came through in my master's degree." 
Before long, an excellent opportunity came up for Maria, which eventually led to her impressive new career as the world's first 'forensic jeweller'. She learned of an existing project working with the University of Dundee's award-winning Centre for Anatomy and Human Identification (CAHID) who  had begun to consider the forensic potential of personal effects – things like glasses, watches, and jewellery.  
Jewellery had materialised as a huge area, with so many cultural, religious, and geographical variations to it. The realisation that this could be a massive area of study led to the project team seeking out some jewellery expertise. As part of her masters study, Maria collaborated with some other ex-jewellers on the course to develop a forensic jewellery classification system to assist in disaster victim identification. Maria fell in love with the idea that jewellery could be used in crimes and forensic cases. 
"The more I started looking into it, the more I realised that the areas of jewellery and forensics were much more closely linked than people thought. Conventional 'detective' work, which involves looking at things at a microscopic level and finding things the naked eye might otherwise miss, is already something that we as jewellers do; we are used to taking things in our hands and looking at them in close proximity. 
"Both disciplines are obsessed by the human body, identity, and death. The theme of death is so present throughout the history of jewellery – think of the Victorians who were obsessed with death and used 'mourning' jewellery to communicate to others that they'd lost a loved one. I realised there were so many more similarities than differences between the two disciplines and maybe we had been missing a trick!"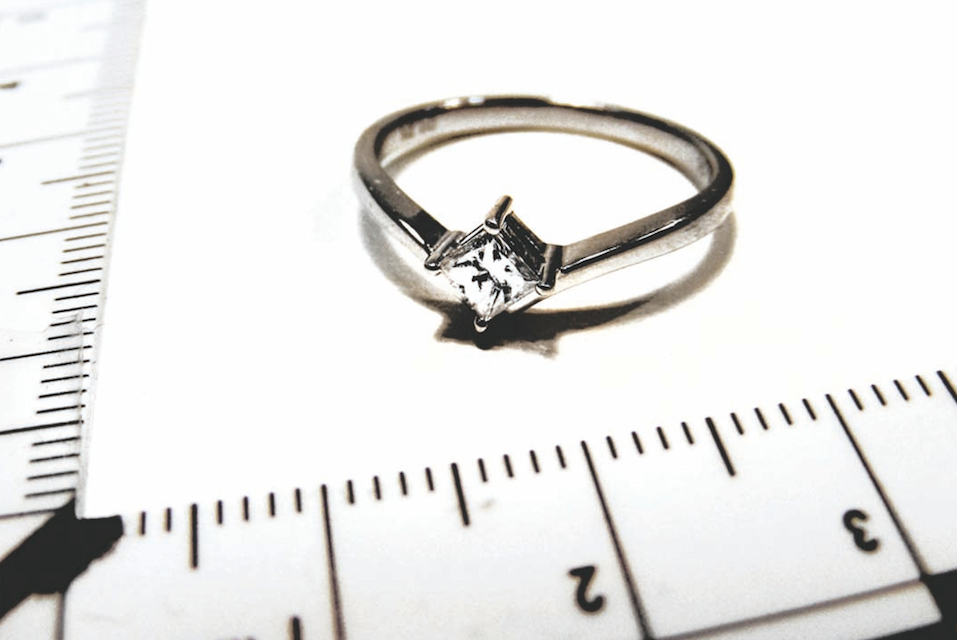 Image used to promote master's work
This desire to explore the area more led to Maria's PhD at the University of Dundee, which was funded by the Economic and Social Research Council (ESRC) as part of a unique collaboration with The Institute for Capitalising on Creativity (ICC) at the University of St Andrews. Her PhD was very exploratory, discovering whether jewellery could indeed be used as a forensic tool. 
"It was great to be hosted by Dundee as I had so much direct access to the things I needed. There was a forensic science centre immediately next door to the art college, and the world's first masters course in 'Forensic Art' which was a collaboration between DJCAD and CAHID. At the time, the Scottish Institute for Policing Research was also hosted in the School of Social Sciences at the University, so I was perfectly positioned to be tapping into all of this expertise." 
Maria's research was sponsored by the new V&A Museum, so she was able to build a lot of connections to industry. While carrying out her PhD, Maria was also successful in receiving an ESRC Internship Award and spent six months working with the Home Office's College of Policing. She also landed an International Placement Fellowship through the Arts and Humanities Research Council (AHRC), and spent four months working with the Library of Congress in Washington, D.C.  
Maria's PhD also led to her first job in the forensic services industry. It is amazing to see that, despite starting her education career in the jewellery field, Maria was able to utilise her transferable skills and the resources around her to enter a career in the forensic world, too. In fact, she has recently started a new role with Police Scotland as their Service Design Manager. 
"In the end, I kind of came full circle - I'm now back in service design, which has been a permanent feature throughout my work and projects over the years. I have kept one foot in the door in industry, working with police and forensic examiners, but I'm also now a part-time lecturer in the jewellery and silversmithing department at Edinburgh College of Art. So, I've maintained this hybrid persona, which is important for me. I teach and research design in an academic context, but I'm also a practising designer in industry." 
Maria hopes that one day there will be 'forensic jewellers' embedded into police forces around the world in the same way artists and forensic artists currently work with the police. Her consultancy work on various cases and projects has proven very useful and the previously unexplored area of forensic jewellery is really opening doors in the jewellery world.  
So, what's next for Maria? She was recently awarded ESRC Impact Acceleration Grant to work with Dutch charity 'The Platform for Transnational Forensic Assistance', exploring her research in relation to identifying the personal property of missing migrants in Greece. Some of Maria's work is also currently on show as part of the '100 Jewels by 100 Women' exhibition at Dundee's Double Door Studios, which features jewellery by one hundred women who have lived, studied, and/or worked in Dundee during their careers.  Among the broad list of participants can be found many of DJCAD's tutors and alumni from over three decades. The exhibition is running from 2-27 June 2021 at Double Door Studios.  
Maria's journey is particularly inspiring as it illustrates how following a passion can result in paths you never knew existed – exactly the message the University of Dundee aims to promote. 
"I try put this across as much as possible when I speak to my own students. While they are studying jewellery, a lot of them don't want to become jewellers or designer/makers and set up their own business. I wish someone had told me when I was applying to university that not only could I do loads of things with a jewellery degree, but I could actually create a new path for myself if there wasn't already one out there which suited me!" 
"If you have enjoyed your degree and nurtured a passion or a skill then there are plenty of things you can do to carry that on in some capacity - there doesn't need to be only one job or one thing you're supposed to do." 
Maria has also recently worked with another DJCAD alumna and filmmaker, Rose Hendry, on short documentary 'THE DEAD ARE JEWELS TO ME', which received funding from LUX Scotland's 'Now and Next' Fund. She and Rose will be having a conversation about the development of this film as part of the DJCAD Alumni Speaker Series for the 2021 Graduate Showcase. You can view 'THE DEAD ARE JEWELS TO ME' on the BBC Scotland website, and the talk will be available on our Graduate Showcase web pages, with a recording available afterwards.
Still from The DEAD ARE JEWELS TO ME. Image credit: Rose Hendry & Isla Badenoch
It was great to learn about Maria's journey from a general foundation student at DJCAD to becoming the world's first 'forensic jeweller', and it is great to see she still echoes that key message that there is no clear path to your dream career. Her story is a great example of following your passion and allowing a love for what you do to carve your own path, and that support is always available to help you achieve your goals if you are willing to pursue these opportunities.  
Do you have an interesting alumni story about a journey down a path you didn't necessarily expect? Get in touch with us at alumni@dundee.ac.uk – we'd love to hear from you.
Learn more about how you could follow in Maria's footsteps and undertake a research postgraduate at the University of Dundee