News
UK top 10 for Accounting & Finance
Published on 22 July 2021
The 2022 Complete University Guide rankings were released earlier this summer and it was positive news for the School of Business.
This year our accounting/finance/financial economics subjects, were ranked 7th in the whole of the UK.  This is a great achievement for the School and puts us in the top 10 with some of the UK's very best business schools.
Our strength and consistency in accounting/finance education at the University of Dundee goes back decades. This latest achievement is recognition of the hard work that has gone into developing the degree offerings.
One key highlight from the rankings is the result for the overall "Graduate Prospects", where we achieved an overall score of 95%. This was the highest overall score, making us number 1 in the UK for graduate prospects in the areas of accounting, finance, financial economics.
This has come as no surprise to us given the annual success achieved by our graduates, many of whom secure jobs before completion of their studies.
Earlier this year, we celebrated the success of our current 4th years as many of them reported early job success, including Chloe Hunter who had secured a role with EQ Chartered Accountants.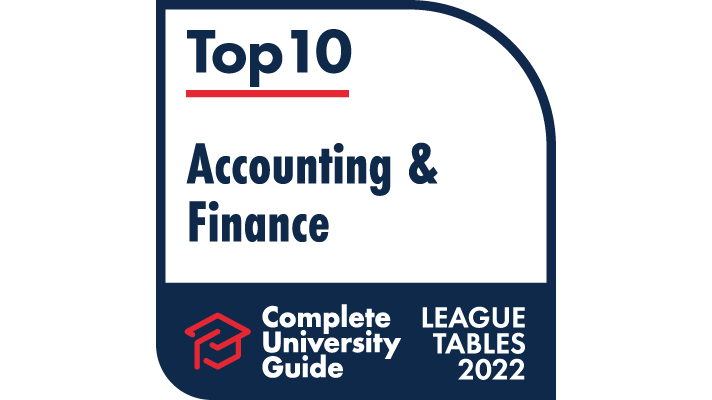 Top 10 - Accounting & Finance
Complete University Guide League Tables 2022
We shared the recent ranking news with our Alumni to see what they thought of the success.
David Morrison – Tax and Leisure Partner, EQ Accountants LLP
Accounting and History, Class of 1989
"As a local employer, EQ Accountants LLP has long standing links with the University of Dundee and has trained many graduates to achieving, CA, ACCA, CTA and other professional qualifications. we greatly value our relationship with the university and find the graduates we recruit to be highly motivated and engaging characters, with strong technical skills.  Creating a platform between further education and private sector employment is a critical link that the University and EQ strive hard to perfect.  We congratulate the University on their ranking, well deserved recognition of the efforts applied to the student experience"
Yusuf Okhai – Managing Director, Aydya Ltd
Accountancy, Class of 1991
"What an absolute delight to see the recent University Ranking tables for Accountancy and Finance, and find Dundee proudly positioned in the top 10. Those of us who studied and work here know how vibrant and progressive that department is, how they develop the context of the subject in students with a real life education, help for entrepreneurs, and a full suite of support. However, even though I know how good they are, it still gives me a special kind of buzz to see Dundee University rated ahead of revered institutions like King's College London and Heriot Watt University. Proud to have been an Alumni, proud of where Dundee University is headed, and delighted for the relentless staff and volunteers that make Dundee one of the country's leading educational establishments for so many subjects."
Angela Linton, Group Chief Executive, Hillcrest
Accountancy, Class of 1987
"I started my career in accountancy by doing a MA at Dundee University.  It was a fantastic place to study and a perfect springboard into my first role, training as a chartered accountant.  I used the skills and experiences during my time effectively and am now the Chief Executive of a very successful Social Housing Provider in Scotland.
I am delighted that the School of Business has been recognised for the opportunities that it gives to all its students.  Dundee is unrecognisable from when I first moved here and so is the university – great place to stay and great place to study."
Adrian White – Finance Director, FNZ Group
Accountancy and Financial Economics, Class of 1992
"Fantastic to see Dundee Uni break into the top 10.  I look back fondly on my time at Dundee which certainly provided a great springboard for my career in Finance which has taken me far and wide.
"I have great memories of my time at Dundee, so it's super to see the University go from strength to strength.  When I was a student, "There's no other way" was in the Top 10 singles chart, students should follow this advice and head to Dundee!"
Greg Colgan – Chief Executive, Dundee City Council
Accountancy, Class of 2000
"This prestigious national ranking is testament to the expertise and knowledge that is available in accountancy and finance at the University of Dundee.
As a graduate of the University, my degree in accountancy provided me with a wide range of skills which have enabled me to work in various roles in the private and public sectors over the years.
I am pleased to see that students who work to achieve at the School of Business can enjoy such high prospects when they graduate."
Stephen McCall – CEO, edyn
Accountancy, Class of 1994
"The new rankings are clear recognition of the depth and quality of the University of Dundee's School of Business offering. From a personal perspective, my experience from the B.Acc (Hons) course gave me the range and diversity of technical and theoretical knowledge to support me through my career to CFO and ultimately CEO. Heartily recommended."
Iain Lloyd - UK Financial Reporting & Controls Manager at Abrdn plc
Accountancy, Class of 2002
"It's great to see UoD being recognised so highly for the Accounting and Finance offering.  One of the reasons I chose to study here was how well regarded the courses are by employers.  I was fortunate enough to get an accountancy traineeship after Uni, and several years later, I now get involved in recruitment in to the Finance team I work in.  Candidates who have UoD on their CV are in a great position to compete with others for jobs due to the great track record UoD has of helping produce well rounded candidates with a great degree behind them."
Gavin Adair – CEO, Rosa's Thai Café, London
Accountancy, Class of 1995
"It's great to see further well-deserved recognition for the School that played such an important part in shaping my 'formative years'. Not sure back then that I or anyone else could have predicted I'd end up running a restaurant group, but the confidence, skills and relationships developed always boded well for an enjoyable and rewarding career. Good to have the chance to say thanks to all at Dundee, and here's to ongoing successes…"
Full details on the rankings can be found at Accounting and Finance - Top UK University Subject Tables and Rankings 2022 - Complete University Guide
Prof David Power, Head of Accounting/Finance in the School talks about the success.