Feature
Keeping it in the family
Published on 7 August 2020
The intimate connections between Dundee and the Indian sub-continent are well known in relation to the jute industry. However, Dundee's international student connections have a similarly long and deep history. 
One of the city's earliest students from the Indian sub-continent - Jainti Dass Saggar - was born in Deharru in Punjab (northern India) in 1898 and arrived in Dundee in 1919 to study Medicine at University College Dundee. Dundee became Jainti's home and he would make a huge contribution to the city.  Marking the centenary of his arrival in Dundee the University launched an undergraduate scholarship in his name. 
Sarah Jamieson, Jainti's great granddaughter, would go onto follow in his footsteps and study at Dundee. Sarah tells us about her family, her shared love of hockey and the launch event of the Jainti Dass Saggar Memorial Scholarship for Excellence. 
"It was a really brilliant day and I am so glad I was able to make it. Firstly it was a great excuse for a family reunion. It was lovely to see my cousin and my aunts and uncles and also some of Dad's cousins who I hadn't seen in a while. "
Sarah Jamieson
"The day was tinged with a slight hint of sadness that my grandmother, Jean Susheila Saggar, wasn't there to see it as she passed away in December 2017. She also trained as a doctor at the University of Dundee. My grandfather, Walter Jamieson, came to Dundee to work in Jainti's practice in 1954, after he sadly died, and that is how he met my grandmother. They then married and had my dad, Walter, and his two sisters Susan and Susheila who all grew up in Dundee and attended the High School of Dundee. She was always so proud of her father and clearly missed him a lot. She always spoke of her childhood with such fondness and he was obviously a great father so I wish she could have been at the launch. However, I was glad that my Aunt Kamala was there to see it.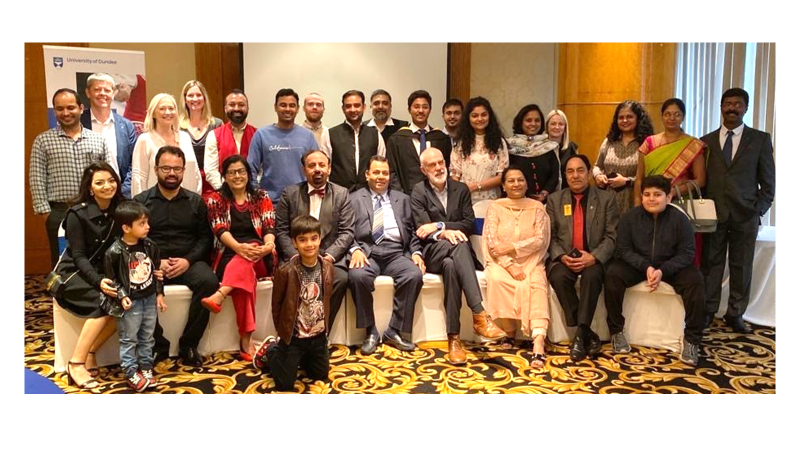 "The event was also a great insight into Jainti's time at the University. My grandma, father and great Aunt Kamala and Uncle John have always made us aware of Jainti's achievements and how much he brought to Dundee, but it was really interesting to hear in more detail about exactly what he did with his time as a student, doctor and as a councillor. For example, I found out that he used to play hockey at the University which was really special for me!"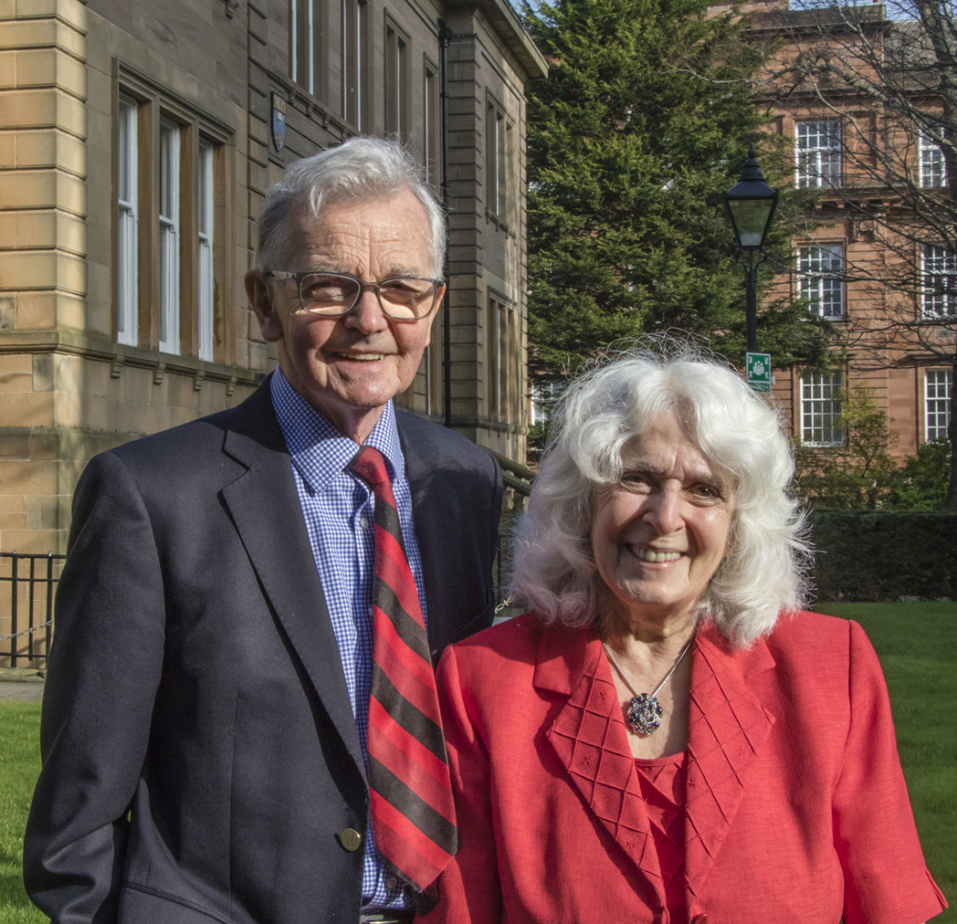 Sarah studied Scots Law with Spanish from 2012-2016 and went on to complete her Diploma in Professional Legal Practice in 2016-2017. As well as her studies, playing hockey was a huge part of her Dundee experience and decision to choose Dundee.
"I had unconditional offers to study at Aberdeen, Stirling and Dundee. In the end Dundee won by a mile both with the family connections (and my previous knowledge of the city) and the fact that the law school is so highly respected. As a keen hockey player, the city offered two top clubs to join and the possibility to play University hockey so it was a good option for sport as well."
Sarah Jamieson
After graduating from the Diploma in 2017 Sarah went straight into a summer of full time hockey training as she had joined the Scotland Women's Hockey Squad in 2016. She trained full time up until the 2018 Commonwealth Games in Australia, before spending a season playing in Munich, Germany from 2018-2019. In September 2019 she started her legal traineeship at TC Young Solicitors between Edinburgh and Glasgow.
"I was really fortunate to be able to dedicate two and half years to just playing hockey, and now I am taking on the challenge of balancing my legal career and my sporting career at the same time. As with most things in 2020 this has been put slightly on hold, but I hope to continue to progress with both, once hockey and work are back on track."
Upon his death the then Lord Provost of Dundee, William Hughes said of Jainti, 'he came to Dundee from halfway across the world, but no son of Dundee had greater love for its people or worked harder in their interest'. This is something Sarah is very proud of.
"It's been a really great thing to see my Great-Grandfather honoured in such a way, and a very timely reminder of the multicultural background of Scotland and how much impact just one person can bring to the country. Jainti never let the fact that he wasn't 'from Scotland' stop him and it is great to hear how openly he was welcomed to Dundee. His impact was quite astounding in a short number of years and I hope I can have a similar impact in both my sporting and legal careers and give back to Scotland in the same way that Jainti did."
The Jainti Dass Saggar Memorial Scholarship for Excellence
The scholarship is named to honour Jainti Dass Saggar who went on to use his education to help transform the lives of ordinary people living in the city of Dundee. Born in northern India in 1898 he transferred his medical studies to the Medical School in Dundee and graduated in 1923.
Subsequently, he became a local GP and proceeded to gain diplomas in ophthalmic medicine, public health, and surgery. He served on the Boards of various education and welfare bodies and was elected Town Councillor in 1936. He served the city of Dundee as a Councillor for eighteen years until his death in 1954.
Nick Hopkins, Professor of Psychology and Academic Regional Lead for South Asia, who uncovered the connection, welcomed Jainti's daughter, Kamala, and her husband Dr. John Stewart to the University to mark the centenary of Jainti's arrival in Dundee n several occasions. These visits involved explorations of the University archives, discovering Jainti's handwritten signature in the matriculation records, his exam grades, and early student photographs.
"Dr Saggar's story is truly inspirational. He embraced Dundee and Dundee returned the affection. That says a lot about the man. It also says a lot about the city. It's a story that we can all be proud of and it's a story that needs telling."
Professor Nick Hopkins
"Given the international dimension to the Saggar story it was only fitting to have two launches for the scholarship – one in Dundee and one in Delhi. At the Dundee launch, current students from India were joined by family members, representatives from the Indian High Commission and Dundee City Council (the latter representing much of the area that Jainti's ward covered). Meanwhile, at the Delhi launch, University of Dundee alumni and staff were joined by members of the wider Saggar family for a celebratory lunch."
The £5,000 scholarship will be awarded alongside existing scholarships to an Indian domiciled candidate with very strong academic potential and the desire to use their education to benefit the wider community. The programme of undergraduate study may be in any discipline.
The Bridge
Read the rest of The Bridge and more of our stories