News
Institute for Social Sciences Research (ISSR) newsletter - August 21 2020
Published on 21 August 2020
Our ISSR newsletter from August 21 2020, including items on ISSR engagement, research, impact, and our Graduate community
Our updated webpage is now live! We would like to thank the UoD webteam, having done a fantastic job in providing changes in navigation, design and structure to give a more streamlined look with better user experience. Our webpage is fully responsive to mobile devices, making it easy to navigate.
This new look will hopefully provide a clear message of who we are, our community, core themes and initiatives. We will continue to work on building content now and in the future.
Sending happy positive thoughts and I hope you all enjoy the weekend.
We want to hear from you
The Institute for Social Science Research is planning to hold a series of events over the next few months and are looking for staff who would like to take part.
In September an event will be arranged to showcase research concerning COVID-19 in a series of short 5 minute presentations followed by discussion.
"The pandemic: Where are we now?"
The current pandemic presents an interdisciplinary research challenge. In April, ISSR hosted a rapid reaction seminar to exchange ideas on the implications between its co-directors and the university community. This second seminar will take stock of ongoing research initiatives, and explore potential of cooperation for researchers across ISSR's constitutive schools.
If you have a COVID-19 project or project idea you would like to share, please contact ISSR. If you would like to explore in more detail email j.sixsmith@dundee.ac.uk
Date For The Diary - Wed 21 October 2-4 PM
You may be aware the ISSR Forum, usually held in June, was postponed. We have decided to arrange talks ('mini forums') to take place online via MS Teams.
The 'Lightning Talks Forum' is welcome for new staff across our 4 participating Schools. If you have joined our Schools since July 2019 and would like to talk briefly about your research, please contact ISSR. If you wish to discuss in more detail, contact Judith Sixsmith.
Our second mini will be held on 18 November 2-4pm and a call for participation to all new PGR candidates has already been circulated. Information on this is featured in the Graduate Community section.
Research and Impact
Nature connection in childhood
Project work led by Dr Alexia Barrable, School of Education and Social work in collaboration with schools of the University of Dundee as well as external collaborations.
Our aim is to build an evidence base for ways to nurture children's connection to nature. Connection to nature, our subjective relationship to the natural world, has been consistently found to be associated with increased wellbeing and ecological behaviours.
Concluded investigations and outputs include a cross-sectional study of nature connection in nurseries, comparing nature nurseries and traditional ones (with Dr David Booth from Life Sciences). This study found higher levels of nature connection for children who attend nature nurseries, and higher levels of connection the longer these children had attended for. Parental nature connection was also found to have an association with pre-schoolers' connection to nature, and more investigation into the role of the family and the home environment is needed.
A review of interventions to increase nature connection in children highlighted strengths and gaps of the current literature and proposed a guideline for reporting to build a stronger evidence-base for nature-based interventions and educational activities.
A collaboration with nature nurseries across Scotland produced a piece on automony in nature, and the way practitioners can support children's free play by shaping space and practice. This is an ongoing project with more data to be collected and analysed.
Alexia and Dr David Booth have an ongoing investigation on the association of pet ownership in childhood, empathy towards nature, and nature connection. You can take part in a survey linked to this project.
In the Shadow of a Pandemic: Harare's Street Youth Experience COVID-19
Professor Lorraine van Blerk and Janine Hunter, Geography and Environmental Sciences shares with us a piece of work looking at the impact of the COVID on street youth in Zimbabwe.
Growing up on the Streets has been working with street youth in three cities since 2012. A legacy 'story map' project with street youth in Harare was planned for March; just as a six-week national lockdown began and movement across Zimbabwe's capital city was severely restricted.
In May and June, young men and women who live on the city's streets again took up making the story map, using a borrowed mobile phone to record in videos and photographs what life is like under lockdown for street youth. They returned with rich visual and contextual data: stories of how young people are surviving at a time already marked by growing political and economic turmoil.
Key stories include that of Mai Future, who is living alone with her toddler in a shack she built on wasteland when her partner abandoned her – lockdown has severely impacted livelihoods. A group of young men hang out in the 'secret' alleyway, sharing income from gathering plastics which they sell for a third of a pence per kilo.
Videos were subtitled by our partners in Harare, Street Empowerment Trust, and shared over an intermittent internet. The story map was put together using the ArcGIS story map.
In the Shadow of a Pandemic: Harare's Street Youth Experience COVID-19 is a powerful timely resource on how the COVID-19 pandemic and lockdown are experienced by homeless young people – please do take a look and share.
Growing up on the Streets Project led by Professor Lorraine van Blerk
'Art in my world: Exploring the visual art experiences in the everyday lives of young children and their impact on cultural capital'
Dr Anna Robb is a lecturer in the School of Education and Social Work and she shares with us some of her research.
"All learners are entitled to an art education that deeply connects them to their world, to their cultural history. It creates openings and horizons for them to new ways of seeing, thinking, doing and being". International Education for Education through Art (INSEA), 2018, [online(INSEA manifesto, 2018).
I view art education as an essential part of the school experience however the value of art and design as a curricular subject in schools is fiercely debated in the UK. In recent years I have been exploring young children's visual art experiences both in and out of primary school (Robb, 2019); the concepts of relevance, breadth and depth are key to planning in Scottish schools and in order for this to occur teachers need a deep understanding of the experiences that the children in their care have both in and out of school. Drawing on theories of cultural capital a recently published article - Children and Society (Robb, Jindal-Snape and Levy, 2020) explores specifically the places where children encounter visual art, how this informs their self-identity and the subject's value.
I am also in the process of writing up a 2019 research project funded by the Carnegie Trust Research Incentive Grant exploring the impact of prior work experience in the creative industries on the teaching practice and educational philosophies of beginner primary school teachers as they undergo the transition from student to probationer. In terms of current projects, I have been working with colleagues in Philosophy exploring the potential of art and philosophical thinking in the school classroom.
Finally, in the pipeline are developing projects with University colleagues including exploring the impact of the COVID19 crisis on young people undertaking arts access courses and a visual arts schools engagement programme and research project in conjunction with the University of Bath Spa, and local Dundee city partners which will be really exciting to work on and will hopefully have a positive impact on the children in the city.
Publishing news
'The Hague Jurisdiction Project – what options for The Hague Conference?'
Dr Eva Jueptner, Law in the School of Social Sciences has written a paper published in The Journal of Private International Law (Taylor & Francis Online)
'Processes at the margins of supraglacial debris cover: Quantifying dirty ice ablation and debris redistribution'
Dr Martin Kirkbride, Geography and Environmental Sciences has recently co-authored a new paper in Earth Surface Processes & Landforms
Newly announced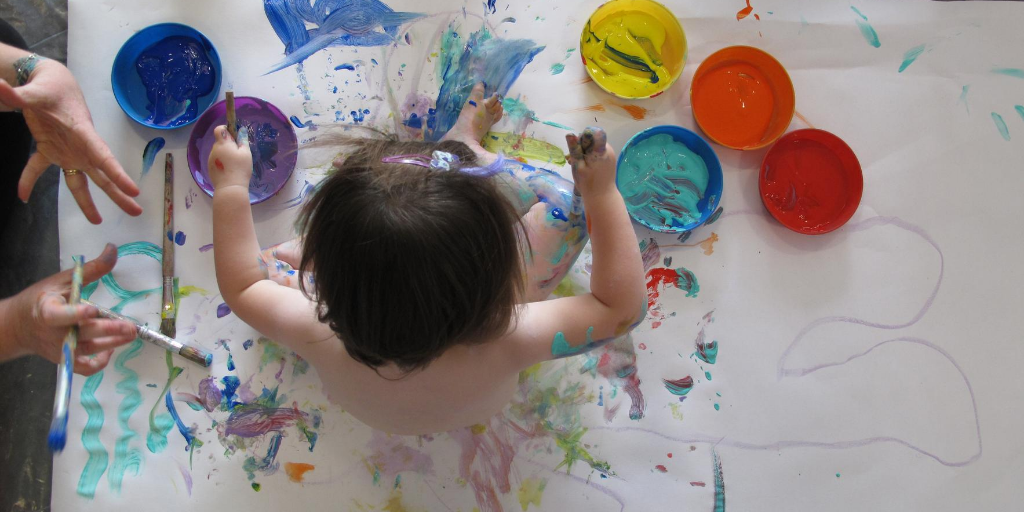 Promoting benefits to support early years art making
Congratulations to Dundee Contemporary Arts, one of the shortlisted organisations for this year's Fantastic for Families Audience Impact Award run by the Family Art campaign.
Psychology PhD candidate, Vicky Armstrong tells us 'the work we have done together with DCA to support early years art making through 'Art at the Start' has been shortlisted for a Fantastic For Families Impact Award run by the Family Art campaign. We'll find out the winners in September but it's nice to be shortlisted and DCA are the only Scottish organisation on the shortlist'
Graduate community
Women, Edge Work and the Regeneration of Cities- Bridging the Urban Planning Gender Gap
May East, PhD Candidate in Architecture and Urban Planning shares her doctoral research with us.
Urban planning suffers from a historic gender gap in theory, policy and practice (Greed,1994, Sassem, 2016, East, 2019). While there has been some research on how urban planning fails to respond to women's needs and perspectives, the concept of 'urban-planning gender gap' can be seen as under-theorised and unrepresented in the realm of practical applications. The contribution to knowledge of this thesis is to bridge the gender gap in urbanism from a Twenty-First century systems perspective.
New trends in urbanisation are likely to unfold over the coming years. This thesis investigates how cities of the present and the future would look like if designed by taking women's perspectives and needs in consideration (Beebeejaun, 2017). The revisited role of women in their mediation of space and making of place is crucial to the implementation of the UN Sustainable Development Goals, including efforts to forge a new framework of regenerative urban development. For Bridge and Watson (2002) there is no one narrative of a city, but many story lines construct cities in different ways. This thesis aims to present multiple ways in which women are inscribing previously unrecorded narratives into the contemporary urban palimpsest.
Date For The Diary - 18 November 2-4 PM
ISSR is holding a 'lightning talks' event for PGRs who have commenced their studies at Dundee since July 2019. It will take place on Wednesday 18th November, 2-4 pm.
If you would like to do a 5 min lightning talk on your doctoral research please email ISSR and if you would like to explore this in more detail please contact Ed Hall
ISSR Engagement
Get involved
If you would like to circulate any information around research you are involved with or events you have held for inclusion in the Institute for Social Science Research newsletter, please send a short description (100-250 words not incl images and links) to ISSR. This is a good way to make your research more widely visible across the University. The newsletter goes live weekly on a Friday so content please by 4pm on any Thursday.
Don't forget to join the ISSR community through Teams to access updates on research related activities. Simply click on 'create or join team' and enter the code e2wv1jf. I can help support, facilitate and arrange online events. Please contact Donna on Teams for a chat and find out how ISSR can support you.
If you know anyone who would like to receive information please ask them to contact ISSR to be added to the distribution list.