News
Final year Animation team win Gold at Domeble Symetri Student Awards
Published on 11 October 2023
Student animated film Kitchen Madness receives Gold award at the Domeble Symetri Student Awards in London.
Animation students from DJCAD produced a 3D animated short film entitled Kitchen Madness, recently recognised at the Domeble Symetri Student Awards event held in London, September 2023. The animation students form a team in their fourth and final year of DJCAD's Animation course.
The entire Kitchen Madness team received a Gold award for Best 3D Team Animation which was presented by Carl Lyttle the founder of Domeble Symetri Student Awards and Nicholas John, Industrial Design & Visualisation Manager at Symetri. The awards, sponsored by Domeble and Symetri, Unity Technologies and Autodesk, provides students with a platform of recognition for their creative contributions to 3D automotive design and visualisation as well as 3D animated storytelling. It also helps students to establish themselves in the industry and to meet and collaborate with professionals. 
Student Director of the film, Fiona Stewart, attended the awards event and accepted the award on behalf of the production team. Also in attendance to celebrate the award was project supervisor, lecturer Stephen Studyvin.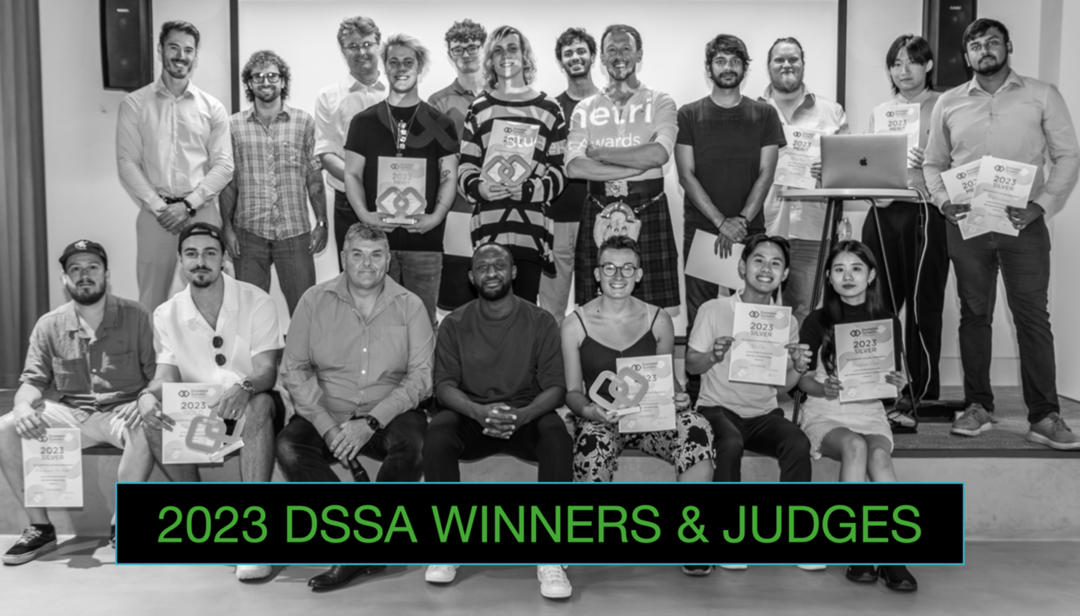 All the award winners and judges from the event, including Fiona Stewart, who is seated in front, third from the right.
Recent graduate Fiona Stewart holding the Domeble Symetri Student Award with the supervisor for the project, Lecturer Stephen Studyvin.
The primary members for the Kitchen Madness team who were awarded are Fiona Stewart, Lorna Welsh, Jonathan Strömbom, Elza Jirgensone, Lindsay MacLaren, Anastasija Ginina, Hannah Shields, Stephanie Wilson, Jack Sergeant, Aoife Beniston, Ben Coupland, Mhairi Brooker, Julia Wesolowska who are all graduates from the DJCAD undergraduate animation course from the previous academic year. Additionally, students Eva Manninen, Ariyel Feasey, Rachael Taylor, Susannah Bolton, Rudolf Bridins, and Kaylee Garland who are currently entering their final year of study contributed to the production along with teaching and support staff in the animation programme.