Contact
Email
Phone
+44 (0)1382 381295
Biography
Since 2008, in response to the start of the global economic crisis, Harrison's research has been concerned with investigating, exposing and challenging the absurd consequences of our capitalist system: from over-consumption, inequality and alienation, to privatisation and climate change – and exploring the impact free-market forces are having on our society, and our individual day-to-day lives.
Harrison's research has been conducted by writing and through the creation of installations, performance / events, funding schemes and political campaigns. Two early installations The History of Financial Crises and Vending Machine use deliberately playful and accessible methodologies to visualise live/historical economic data, to share what may otherwise be obscure information with a broad audience.
The History of Financial Crises, (first exhibited at Mejan Labs, Stockholm for Harrison's two-person show Transfer and Actions with Casey Reas), used a row of popcorn making machines to re-enact the turbulent history of capitalism over the last century. Whilst Harrison's Vending Machine was reprogrammed to release free crisps only when search terms relating to the recession make the headlines on the BBC News RSS feed.
The History of Financial Crises formed the centrepiece of Harrison's solo exhibition Market Forces at Vane, Newcastle in 2011 and in 2013 featured alongside works by Joseph Beuys, Andy Warhol and Julieta Aranda & Anton Vidokle in the exhibition Money after Money in Tokyo curated by Yukiko Shikata.
Vending Machine has been exhibited at venues across the UK and Ireland, forming part of Harrison's solo exhibition A Brief History of Privatisation at Watermans, London in 2011. Since 2012, it has been part of Data as Culture - the permanent public collection at the Open Data Institute, London alongside works by Semiconductor, La Société Anonyme and Stanza. In 2016, it toured to Somerset House, London as part of the Big Bang Data exhibition and in 2017 it featured in Show Me the Money! at the Museum of Contemporary Art in Roskilde, Denmark alongside works by Cooking Sections, Len Lye, Stefano Tsivopoulos and Superflex.
Awards
Award
Year

Engaged Researcher of the Year

/

Ellie Harrison, from Duncan of Jordanstone College of Art and Design, has been named Engaged Researcher of the Year in recognition of 'Bus Regulation: The Musical', a project that influenced changes in transport policy. 'Bus Regulation: The Musical' is inspired by the 1980s hit musical 'Starlight Express', and features performers on roller skates to re-enact the history of public transport provision in the Strathclyde region from the post-war period to the present day.

2023
Stories
News
Ellie Harrison, Artist, activist and Senior Lecturer in Contemporary Art Practice, tells the story of her award-winning Bus Regulation: The Musical Trilogy and the impact that it has had.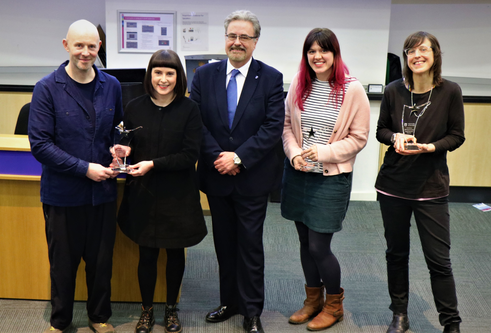 Press release
Stephen Fry has lavished praise on University of Dundee staff and students for their success in involving the public in academic research projects.