Contact
Email
Phone
+44 (0)1382 381023
Biography
Amy Cameron is the Public Engagement and Communications Officer at the School of Life Sciences. In the public engagement (PE) part of her role, Amy has worked closely with members of the School public engagement team to formalise public engagement practice and procedures in the School. This has included developing a School PE strategy that has an evaluation framework aligned to it.
Amy has worked alongside PE colleagues (School and across University) and School staff and students to deliver a programme of activity which includes events in the Dundee Women's Festival and Dundee Science Festival.
She was a member of the School team responsible for the successful submission and award of a Gold Engage Faculty Watermark from the National Co-ordinating Centre for Public Engagement's (NCCPE) in 2017. In 2018, Amy completed the NCCPE Engage Academy.
In the communications part of her role, Amy works closely with colleagues in the University's Directorate of External Relations ensuring a coordinated approach across the University. She assists in sourcing interesting stories, develops content for publicity and marketing, ensures a strong flow of information across the School, oversees films requests and interviews and co-ordinates events. She is also responsible for the maintenance and development of content on the SLS website and manages the School's social media accounts to generate content to varied audiences.
Background
She has a background in academic research as prior to joining the School, she was a Postdoctoral Researcher in the School of Medicine. Throughout her research career, Amy participated in public engagement through the development of activities and as Education and Outreach Representative on the Society for Endocrinology Public Engagement Committee. Amy was a Science, Technology, Engineering & Mathematics (STEM) Ambassador for over a decade (2010 - 2021).
To further enhance her practice, Amy has gained a Postgraduate Certificate in Teaching in Higher Education in 2015 and subsequently became a Fellow of the Higher Education Academy. While undertaking this qualification Amy taught within the University and at the Dasman Institute in Kuwait.
Research
Public engagement activity generates materials and resources that are made freely available for all. In addition, documentation related to the School's strategic activity and reporting is also accessible via the research profile and publications link below.
View full research profile and publications
Teaching
Science Communication (BS32032)
Stories
News
As part of the University of Dundee's Celebrating our Public Engagement event, the University crowned the latest winners of the Stephen Fry Awards for Excellence in Public Engagement.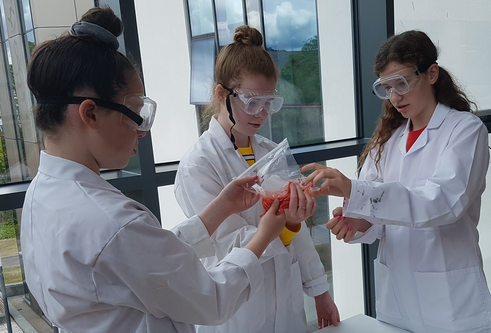 News
A host of fun activities aimed at promoting STEM subjects to girls and young women launches in Dundee today.