Guide
Become a student ambassador
Represent the University and support prospective students and guests at key events and gain valuable experience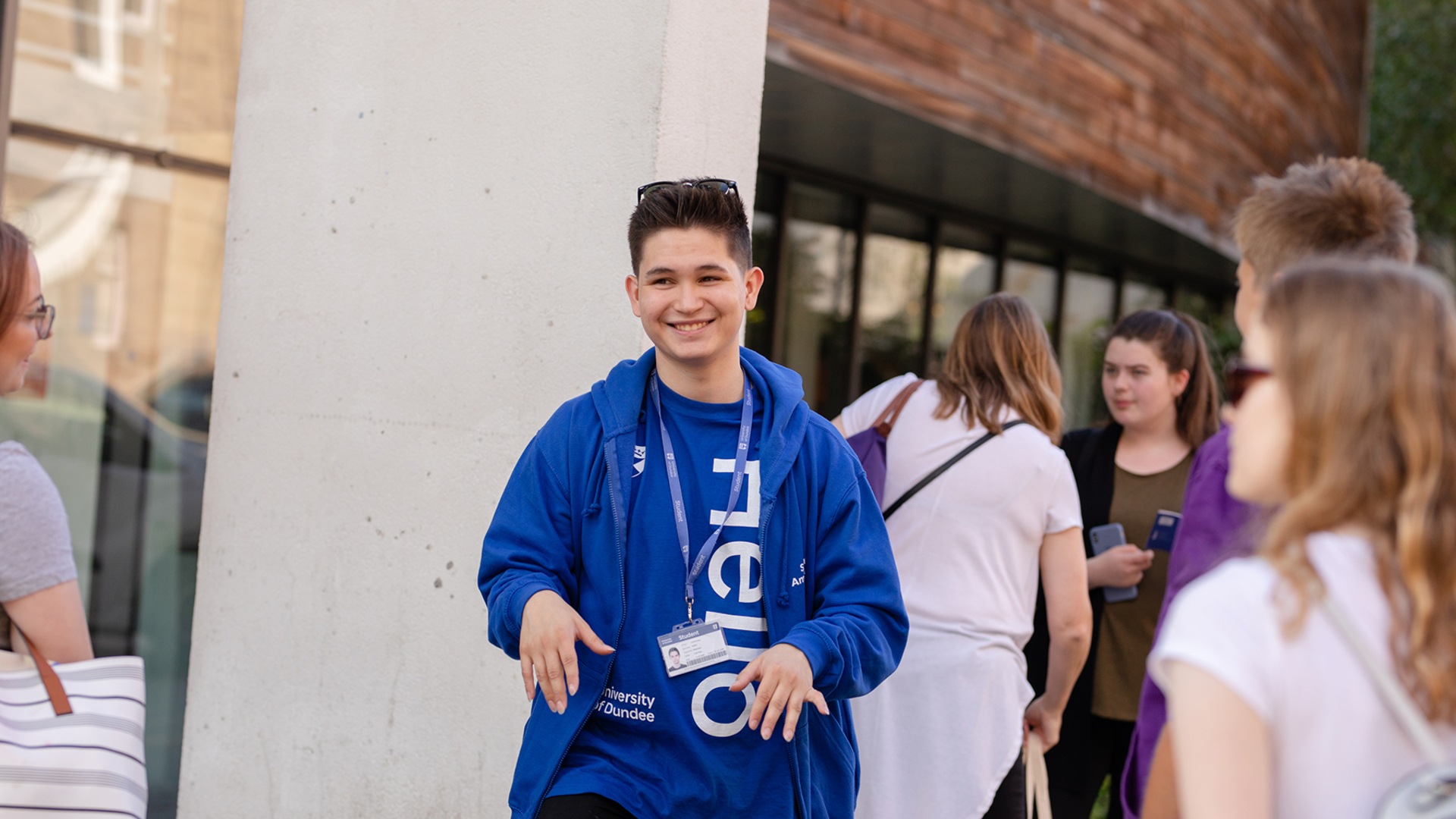 We are not currently recruiting Student Ambassadors
Our Student Ambassadors are the face of the University for our prospective students and their guests. As a Student Ambassador you will be at the forefront of our engagement with prospective students throughout the year through Open Days, Applicant Days, and other special events. Along with these major events, you may also be involved in call campaigns, campus visits, and recruitment events.
Benefits
Skills and experience
Gain confidence in communicating with a range of audiences
Gain experience of working with young people
Improve your employability and enhance your CV
Develop team working skills, problem-solving skills and social and cultural awareness
Get training in customer service and event management
Pay
£8.21 per hour for Core, Call, and Event Student Ambassadors
£9.65 per hour for Senior Student Ambassadors
Open Days and Applicant Days
Our Open days and Applicant days give our applicants and prospective students a chance to see our facilities and hear, from you first hand, what the University of Dundee has to offer.
If you work at our visiting days you will be involved in a range of tasks such as:
registration
train station stewarding
ushering
library tours
campus tours
staffing information points
Regional recruitment events
You may be asked to travel with our recruitment staff to chat to prospective students at schools, UCAS events, and Higher Education fairs about your course, student life, and your experience of Dundee.
Call campaigns
Some prospective students are unable make it to campus until they begin their studies. As an Ambassador, you can be involved in various campaigns that engage and share your experience of Dundee with prospective students over the phone.
Progression and further opportunities
Our group of Student Ambassadors operate on a tiered scheme meaning that there are opportunities for you to take part in a variety of work and gain more responsibility in your role.
Student Ambassador types
Event Ambassadors
Event Ambassadors are called upon to help with major events such as our annual Open Days and Applicant Days.
Event Ambassadors will have the opportunity to join the Core Student Ambassador group at key points throughout the year.
Core Ambassadors
In addition to work at Open and Applicant Days, Core Ambassadors are offered a variety of work throughout the year including regular campus tours, helping with office-based work, and participating in events such as school visits.
This group consists of those Ambassadors who have demonstrated continued commitment to the scheme and are looking for a higher level of participation.
Senior Ambassadors
Our Senior Student Ambassadors have a higher level of responsibility and training.
They are involved in a variety of work, supporting the Student Recruitment Team, International Engagement Team, and Applicant Experience Team with specific tasks and are required to take on a supervisory role for Open Days, Applicant Days and any other events/activities. They also take an active role in helping to train new ambassadors.
Call Ambassadors
Call Ambassadors' main duty is to help make calls to prospective students and current applicants.
We look for a range of students from various disciplines and nationalities. To help with this work in order to give call recipients a chance to talk to someone studying their course or who is form their home country.
It is possible to be both a Call Ambassador and part of the Core Ambassador group.
Essential skills and qualities
We expect our Ambassadors to:
have excellent communication and interpersonal skills
have a genuine interest in helping prospective students
be committed and enthusiastic about Dundee and the University
have empathy and be sensitive to different perspectives,  cultures, and experiences
uphold a positive and professional representation of the University of Dundee
be reliable and punctual
behave in a professional manner which is culturally sensitive
Desirable skills and qualities
previous experience working with the public in a customer service role
good knowledge of the University and the city
awareness of the UCAS application process and the decisions students make when selecting their place of study
the ability to troubleshoot and use your initiative to solve problems
Training
Student Ambassadors are provided with full training ahead of any activities that they are requested to complete.
We would never want you to feel that you didn't have the knowledge and tools to do a job well. We want you to feel confident and comfortable in the work you do and gain experience through your work as an Ambassador.
Some training will be compulsory if you wish to participate in work such as events, calls and campus tours while other training is optional and an opportunity for you to develop as a Student Ambassador. 
International requirements
If you are applying as an international student it is important that you do not break the regulations of your Visa.  Most overseas students will have a Tier 4 Visa which states that you cannot work more than 20 hours per week (paid and voluntary). 
You will also need a National Insurance Number to undertake any paid work in the UK.  If you don't have a National Insurance number, you must apply for this as soon as possible.
Dates of availability
Student Ambassadors must be available during the following periods:
March – April
Applicant Days
August – October
Clearing and Main Open Days
Last updated
11 November 2019
From
Admissions and Applicant Experience