Collections
Life on Land
Our work and activity in relation to 'Life on Land', one of the UN's Sustainable Development Goals.
Stories
Press release
A colony of honeybees is generating a buzz at the University of Dundee Botanic Garden after the installation of a 3D-printed wooden log hive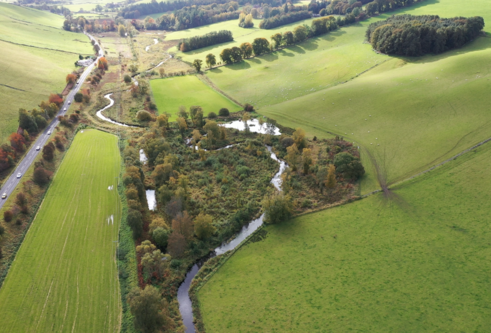 Press release
University of Dundee expertise has contributed to a Scottish project being identified by UNESCO as a global exemplar of environmental management
Press release
The planting of two 'Trees of Hope' symbolises the University of Dundee's commitment to equitable working with partners in Africa.
Press release
A University of Dundee gardener who played a key role in developing one of the city's best loved beauty spots has retired after five decades of green-fingered graft.
Press release
Partners in the nationwide Dandelion project have thrown open the garden gate to a summer programme at the Fair Growing Green in Dundee, signalling the start of its new role as a community garden
Press release
Big transformations to two small patches of Dundee are underway as local communities came together to plant hundreds of trees as part of a citizen science initiative
Press release
Researchers at the University of Dundee have been awarded £2.1 million from UK Research and Innovation (UKRI) to determine how thousands of cells self-organise to form the embryonic body plan
Press release
Dundee's two universities have been named in the top tier of UK higher education institutions for their commitment to sustainable transportation and electric vehicle infrastructure.
Press release
Local families are invited on a magical winter journey when a fairy door trail at the University of Dundee Botanic Garden launches this week.
Press release
A collection of picture and word reflections celebrates decades of the Dundee Botanic Garden through the eyes and thoughts of its regular visitors.
Press release
Actively restored tropical forests recover above ground biomass faster than areas left to regenerate naturally after being logged, according to new research led by the Universities of Dundee and Aberdeen and ETH Zürich.
Press release
At a time when parents, carers and teachers are wrestling with how to best provide education during lockdown and the classroom restrictions to follow, a University of Dundee student has devised ways of delivering learning for young people outdoors.
Feature
Professor Colin Reid has been heavily involved in work on the big impact that Brexit will have on the environment, and environmental law
Press release
Kevin Frediani has been appointed as the new Curator of the University of Dundee Botanic Garden
Press release
An expert in soil mechanics at the University of Dundee is ploughing a furrow of success after receiving a major international honour
Press release
A Nursing student at the University of Dundee is calling on green-fingered locals to come together and grow healthy produce for members of their community to enjoy
Press release
Research carried out at the University of Dundee has shown the scale of plastic pollution in the Firth of Forth to be much worse than previously thought