Fine Art BA (Hons)
Combine studio practice with critical understanding of theory and experiment across a range of media
Start date
September 2019
Location
Dundee City Campus
This course will help you to find your own identity as an artist through the development of core skills and practical techniques.
The course is focused on making and critical thinking, and you can concentrate on a single discipline or work across a number of disciplines and media. Your practical work will support a growing critical and contextual understanding of the theory of art and culture.
Taught by practicing artists of international standing at Duncan of Jordanstone College of Art & Design, our academic staff exhibit and publish nationally and internationally. In 2015 Fine Art lecturer Graham Fagen represented Scotland at the Venice Bienniale (one of the most prestigious cultural exhibitions in the world).
Using our large studios and world-class workshops, you will explore drawing, painting, time-based art, digital media, sculpture, print, photography, video, sound, performance, installation, and artists' books.
You will have access to all our workshops, with their specialist technicians and support staff, so you can work with whichever materials you require. Our workshops include:
woodworking
print
laser cutting, 3D printing, interactive programming
ceramics
dedicated edit suits, sound rooms, and a green screen film studio
digital and dark room photography with two dedicated photography studios
During the course you will be encouraged to put on your own exhibitions, and your four years of study culminate in the Degree Show - a major event where you can show your work to a wide audience.
You will also have the opportunity to take part in exchanges with partner institutions across the world.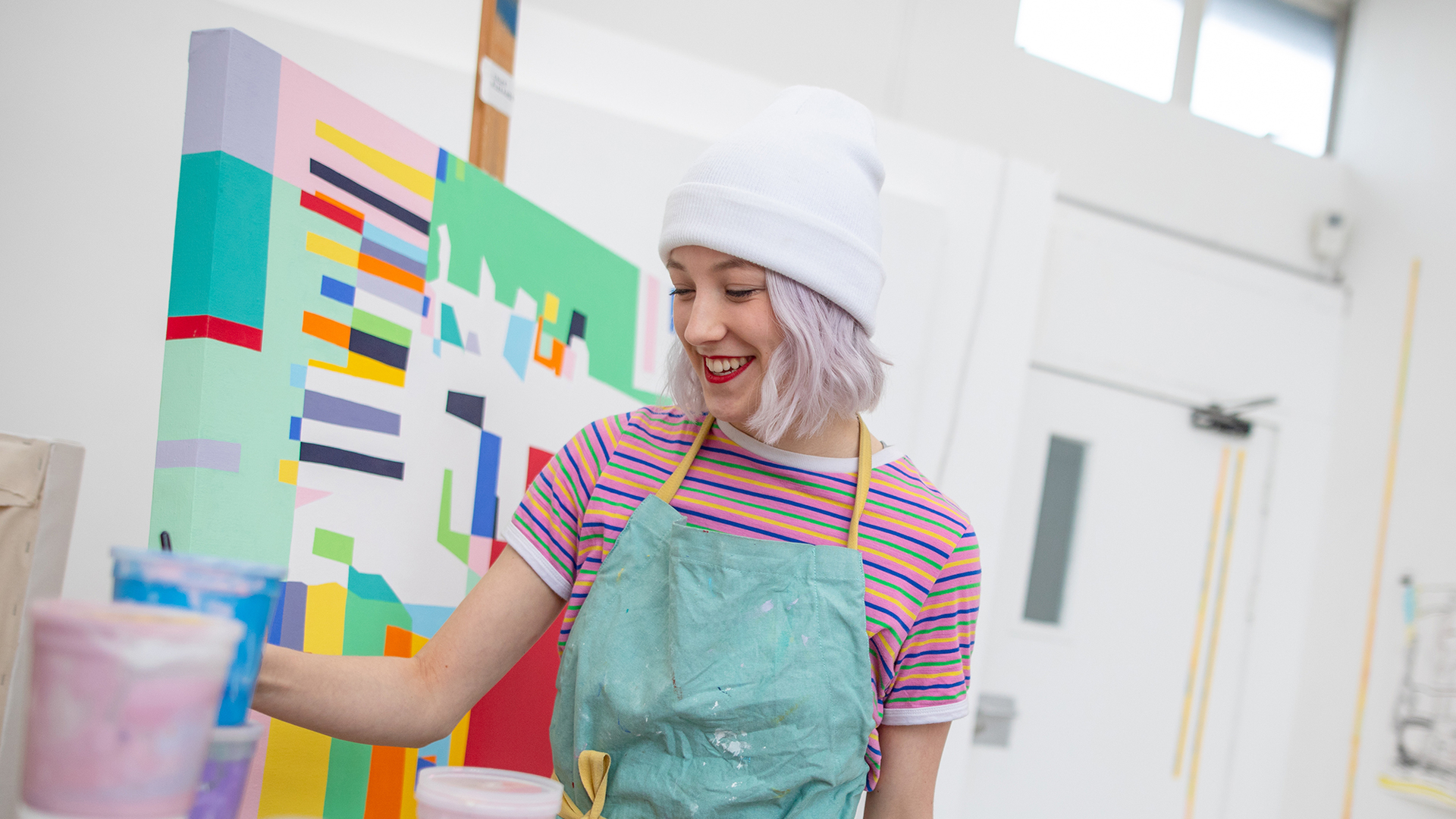 "The Fine Art studios are some the best studio spaces are in the building. There's so much light – you get light all throughout day, and we're so lucky to get so much space. At the same time, it's quite sociable and everyone is inspired by each other. You get a lot from being around so many so many people, and so many artists doing different things."
Chloe Alexander, Fine Art graduate