Press Release
'A Russian invasion forced me into Clearing'
Published on 12 July 2019
Tens of thousands of soon-to-be school leavers use Clearing every summer to gain a place at a top institution, but very few are forced into it after being stranded in a foreign country during their summer holidays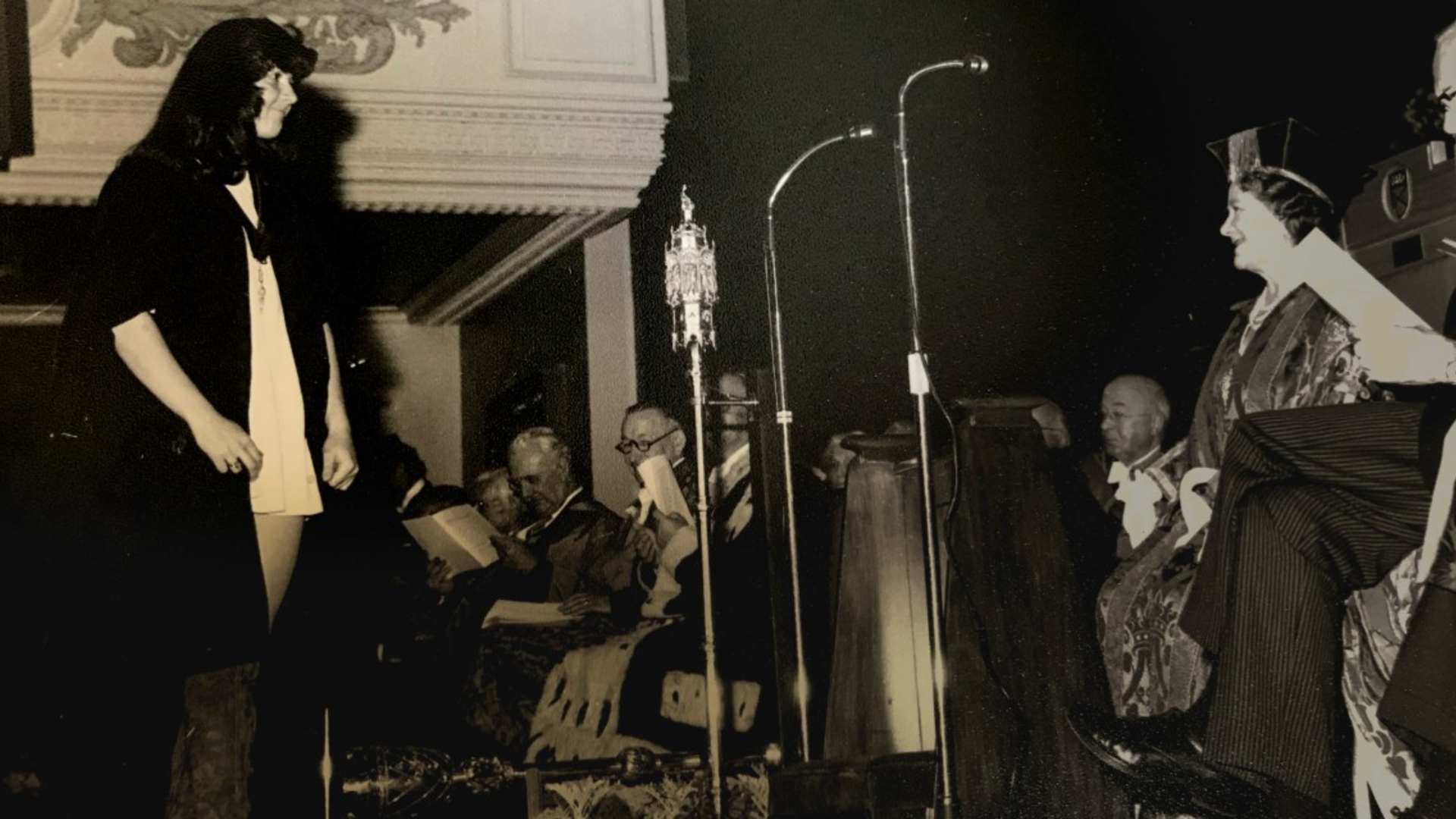 This was the case for University of Dundee graduate Drahuna Dutton who was visiting friends in Bristol in August 1968 when the Soviet Union led Warsaw Pact troops in an invasion of Czechoslovakia.
Drahuna, who would later receive her degree from HM the Queen Mother (who was Chancellor of the University of Dundee at the time), was just 19 years-old when tensions in the Soviet satellite state escalated into invasion by five surrounding countries.
What began as a summer holiday in Bristol to top up her English skills quickly became a crisis when, unable to return to Prague to finish her Economics degree, the young Czech was forced to find work in the UK.
However, Drahuna says it was in part thanks to this world-shattering moment that she found her true calling and was able to continue her education by applying to Dundee through clearing.
"I found it impossible to believe that a sovereign country could be invaded by another allegedly friendly state," said Drahuna.
"There was no contact with Czechoslovakia for about a week. Then an article with my name and photo appeared in Sidmouth local paper when my father asked a Reuters reporter to let me know somehow that they were okay.
"I found myself stranded in the UK with £10 to my name, so I had to find any work I could. It was while working for a hotel in London, that I realised I needed to complete my degree, so you could say a Russian invasion forced me into Clearing.
"I had to take O and A level exams in English to be able to apply to university but I am very grateful to have had the chance to go to university, as without the kindness and support I received in Dundee, I would not have had the fulfilling career I have had."
Drahuna graduated in 1973 with a joint degree in Economics and History. She went on to spend the rest of her career teaching Economics and Business studies, mostly at Bristol Grammar School.
Having attempted to retire several times in her long career, Drahuna finally put down the chalk in July 2018, after almost 45 years of teaching in the UK.