News
From Nigeria to the UN - Chidinma's career journey
Published on 26 January 2021
Chidinma Zik-Ikeorha, an international student from Nigeria, graduated with an LLM in International Law and currently works as a Programme Consultant for the United Nations Environment Programme.
Chidinma Zik-Ikeorha graduated in 2013 with an LLM in International Law from the University of Dundee. She obtained her LLB from Abia State University in Nigeria and her BL from the Nigerian Law School.
LLM International Law
Chidinma decided to come to Scotland after one of her friends suggested she study in Dundee as the Law School has a reputation of being one of the best for international law.
The LLM degree gave Chidinma the knowledge she needed to begin her career in international law.
 
"One of the best things about my course was learning about how the law operates in various regions"
Chidinma Zik-Ikeorha
Career at the United Nations
Since graduating, Chidinma has worked with different NGOs and IGOs on human rights and she currently works with the United Nations (UN) on areas of environment in her role as Program Implementation Consultant, UNEP-Oil for Development Partnership, UN Environment Programme.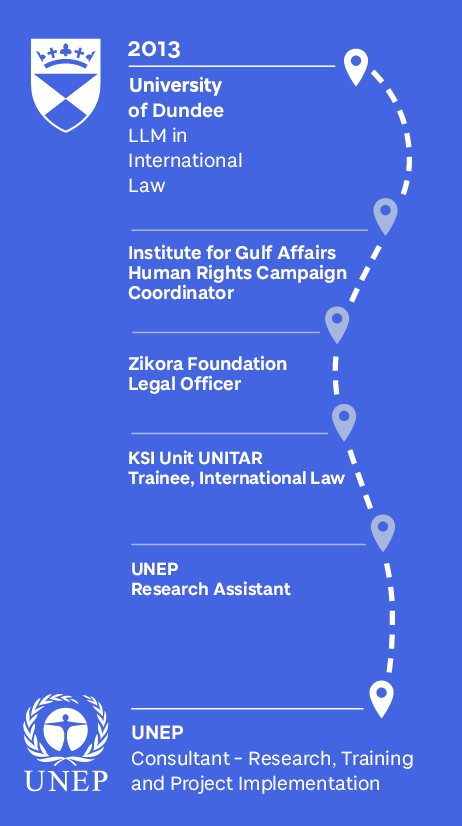 Chidinma's career journey from studying International Law at Dundee to a role at the United Nations
When she first joined the UN in Switzerland in 2016 she started as a UN Trainee, International Law Portfolio (KSI), then became a Research Assistant with the UN Environment Programme.
Chidinma is a Member of the Nigerian Bar Association, American Society of International Law and the Commonwealth Youth Human Rights and Democracy Network.
Studying at the University of Dundee, Chidinma gained many skills which help her in her current role. This includes conducting legal research and analysis on national policies, laws and regulations, in order to identify gaps and areas of improvement for strengthened environmental management in the oil and gas sector.
Looking back at her time studying in Dundee, Chidinma says:
"My time at the University of Dundee was great! The learning experience was pretty cool and was different from what I was used to in Nigeria. The field trip was one of my favourite memories. The lecturers were helpful, other students were great, and the location has great places to eat and amazing scenery."
Chidinma Zik-Ikeorha
Explore our postgraduate LLM courses
Obtaining an LLM can be the start of many interesting careers like Chidinma.
Our courses are all highly flexible. If you study our LLM Law (General), you can choose from across our full portfolio of modules to make your own bespoke Masters. You can also study for a specialist LLM right from the start, or change specialisms later. 
As well as concentrating on areas such as commercial, environmental or human rights law, some courses allow for multidisciplinary study (for example, International Law & Security, and Law, Banking & Finance).