Scott Myles
Lecturer
Contemporary Art Practice, Duncan of Jordanstone College of Art & Design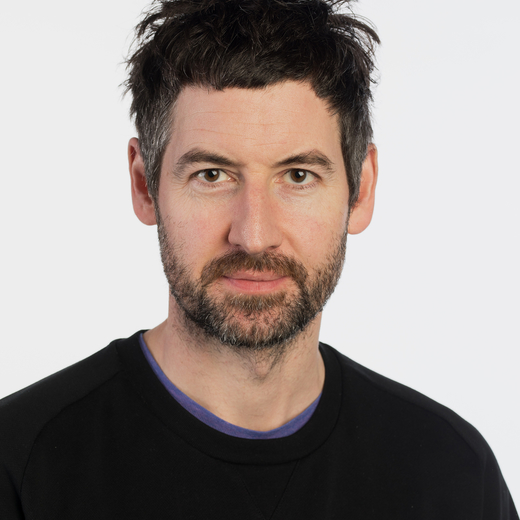 Contact
Email
Phone
+44 (0)1382 381297
Location
Matthew Building
Biography
Scott Myles expresses his ideas in varied materials and in many mediums including sculpture, printmaking, painting, text, drawing, photography, artists' books and performance. If there is a signature to his work it isn't to be found in a single aesthetic or 'look', or in the use of a particular material, but in the ideas and concepts that underpin all his projects. His practice is both conceptually-based and strongly gestural, and he often combines different artistic processes within single artworks or as part of gallery-based installations. Furthermore, his works may take shape as print-based paintings, for instance, or as large-scale sculptures, but can just as well consist of ephemeral gestures or actions. These varied approaches are a means of exploring his own artistic language and research interests. Key among these are: gift exchange as a forging of reciprocal obligations and relationships; art's interaction with economics and the status of art-making as a form of work and/or as a refusal of work; and the question of how psychological or subjective dimensions might register in the very materials and structures of our physical environment. Whatever shape Myles's works take, they ask us to think about how personal and social meanings are layered in objects, images and gestures.
Myles has been the subject of numerous solo exhibitions and projects, including: 'This Way Out', The Modern Institute, Glasgow; 'Heal Walls', Rat Hole Gallery, Tokyo; 'Potlatch', Lafayette Maison, Paris (in collaboration with Foundation Lafayette); 'This Production', Dundee Contemporary Arts, Dundee; and Kunsthalle Zurich.
Group exhibitions include: 'White Trash', Luhring Augustine, Bushwick, New York; 'Apparitions: Frottages and Rubbings from 1860 till now', Hammer Museum, Los Angeles & Menil Collection, Houston; 'DLA Piper Series: This is Sculpture', Tate Liverpool; 'Contemporary Scottish Art: New Acquisitions & Loans', Scottish National Gallery of Modern Art, Edinburgh; 'Blasted Allegories', Works from the Ringier Collection, Kunstmuseum Luzern; 'On interchange/Interludes of a collection', Museum Kurhaus Kleve; 'Theorema', Collection Lambert en Avignon; 'Image/Text', Tate Modern, London.
Myles's artworks are held in private and public museum collections including Tate, London; Museum of Modern Art, New York; Hammer Museum, Los Angeles; British Council Collection, UK; Scottish National Gallery of Modern Art, Edinburgh and Gallery of Modern Art, Glasgow. He has been awarded two Andrew W. Mellon Research Fellowship in 2016 and 2018, to support his research at the Virginia Historical Society in Richmond, USA. Myles has also been awarded a numbers of residencies, most recently at Cove Park in Scotland in 2017. Myles is represented by The Modern Institute, Glasgow, Meyer Riegger, Berlin/ Karlsruhe & The Breeder, Athens.
Teaching
In conjunction with role as a Research Fellow (2013-2018), and lecturer (2018- ongoing) Myles lectures on both undergraduate and postgraduate level courses. Myles has designed and delivered a series of master classes, seminars and lectures, as well as conducting study trips, group research, recorded one-to-one tutorials, critiques and degree show assessment.
Myles has taught, delivered artists' talks, conducted workshops, seminars and thematic lectures at the following venues:
The Ruskin School of Drawing and Fine Art, Oxford; St Andrews University; Kunsthalle Zurich; Art Center College of Design MFA Program, Los Angeles; Glasgow University Art History Department; Glasgow School of Art; Edinburgh College of Art, Limerick School of Art & Design, OTIS College of Art & Design, Los Angeles; USC Roski School of Fine Art Master's Program, Los Angeles; The Common Guild, Glasgow; Cove Park, Argyle & Bute; CCA, Glasgow; Virginia Historical Society, Richmond; Dundee Contemporary Arts, Dundee; Tramway, Glasgow; Transmission Gallery, Glasgow; Jerwood Space, London; Projects in Art & Theory, Cologne; BBC Scotland; Eastside Projects, Birmingham; Gallery of Modern Art, Glasgow; Tate Britain, London; Tate Modern, London; Academy of Visual Arts, Leipzig; University of British Columbia, Vancouver.
He was external examiner for three-year cycle, B.A. Drawing & Painting, Limerick College of Art and Design, Limerick, Ireland, 2014 - 2017