Guide
Get started with Collaborate
See the interface of a Collaborate session and learn about available features
This guide will explain some of the features within a Collaborate session. To learn how to set up a session please check out the guide for Setting up Collaborate in My Dundee. Some of the settings you'll see here will depend on if you're the room as a participant, presenter or moderator. If you are entering a session in a course that you are enrolled in as an instructor, you'll automatically enter as a moderator.
Familiarise yourself with the interface
This is the page you will see when you enter a course room or session in Collaborate.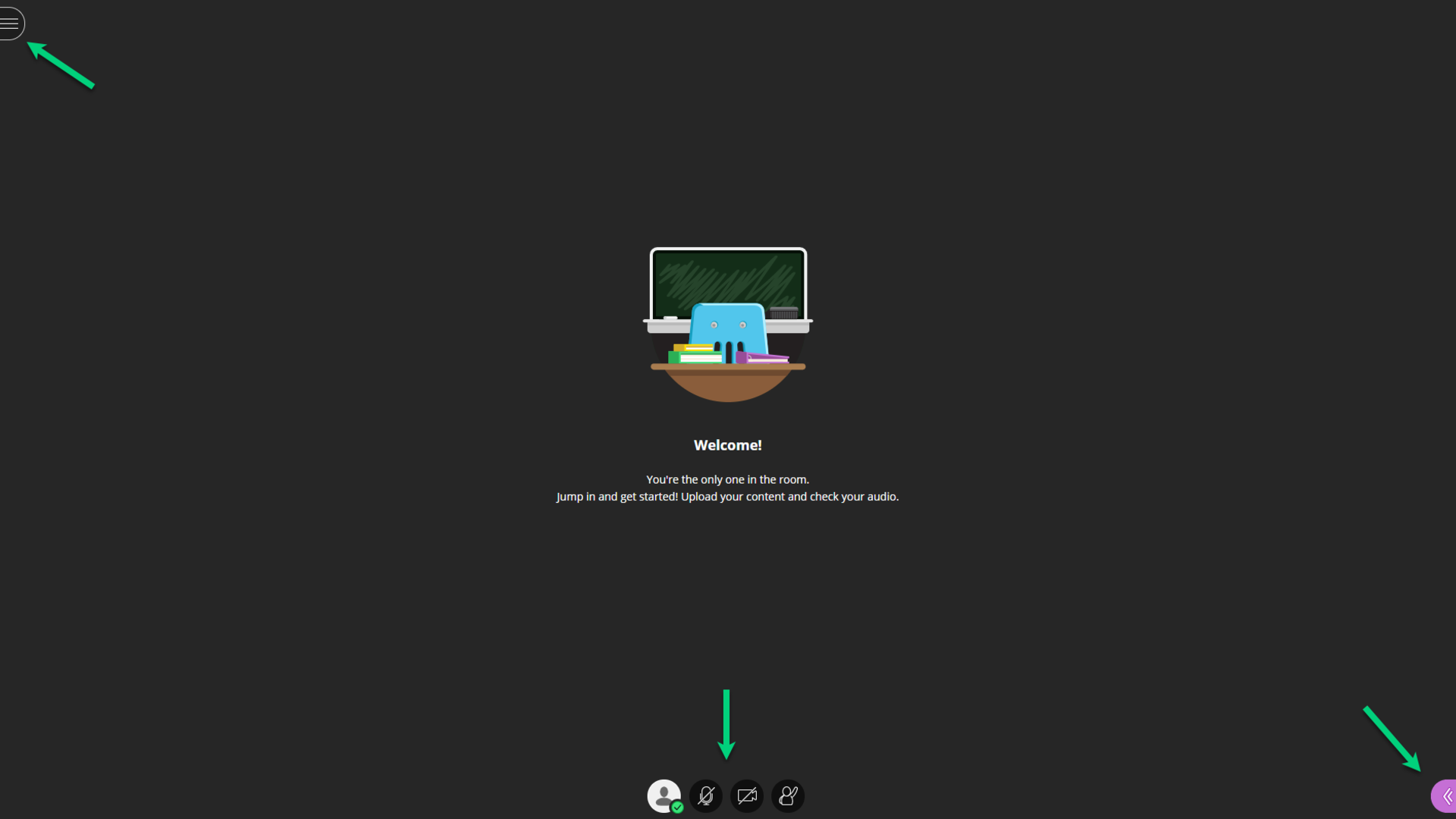 You will see four icons at the bottom of the screen:
Your picture or a blank avatar
A microphone icon - you can click on this to mute/unmute your microphone
A camera icon - you can click on this to turn your webcam on or off
An icon of a person with a raised hand - this raises your hand so the moderator/presenter can see if you have any questions or comments you'd like to make
On the left side at the top, you'll see a hamburger menu. If you open this, you'll see the option to Start Recording, as well as a few links to help pages. 
Open the chat/features area
On the bottom right, you'll see a purple button with two little arrows in it. If you click on this, you'll open a window that has a few functions within it. 
On the bottom of this side window, you'll see four more icons:
A chat bubble icon - this allows you to have text chats with all of the participants, with other moderators only, or private conversations with anyone in the session
An icon with the outline of two people and number - this is the Attendees window. The number is the total people in the room. If you go into this window, you can see a list of everyone in the room and adjust people's permissions (for more information on this, see the Moderating a Collaborate room guide)
A square with an arrow coming out of it - this is the Share Content window where you find all of the additional features such as sharing files, sharing your screen, creating breakout groups and deploying polls (for more information on these features, see our other guides)
A cog wheel icon - this is the Settings window where you can adjust a limited number of settings such as whether participants can enter with their audio or video enabled
Last updated
14 April 2020